By Kourtney Schott '18

For eight hours, 530 Gonzaga students bounced, shimmied, jived and
danced their way past a $62,000 goal, ultimately raising more than $76,000
to benefit kids treated at Sacred Heart Children's Hospital in Spokane.

They joined more than 350 colleges, universities and high schools that collectively raised more than $34.6 million for over 170 pediatric hospitals across North America as part of Miracle Network Dance Marathon.
Since its inception in 1991 at Indiana University, Miracle Network Dance Marathon has raised funds and awareness for pediatric illness and injury. Students work the entire year to raise money for their local Children's Miracle Network Hospital, which culminates in a final 8- to 40-hour-long event – the dance marathon. The event itself gives participants a chance to meet patients and their families (called Miracle Families), play games, enjoy entertainment, and of course, DANCE!
In 2014, GU Dance Marathon founder '17 Shelby Wells took the opportunity head-on to start an event at Gonzaga. That same year, Shelby's 9-month-old niece was rushed to her local children's hospital after having several seizures, and later was diagnosed with epilepsy. Immediately, the Miracle Network Dance Marathon meant something to Shelby, and the spark to make Gonzaga University Dance Marathon (GUDM) the best dance marathon possible ignited.
This year's dance marathon took place on February 11 in the Hemmingson Center's ballroom. Members of GUDM's Executive Board worked the entire year to fundraise and promote for the event, setting a fundraising goal of $62,000. By the end of the night, after the photos, food, inflatable slides, games and dancing, the executive board revealed that GUDM had raised $76,592.98, far surpassing their goal. All funds go to Sacred Heart Children's Hospital, Spokane's only full-service hospital built just for kids.
Catching Up with Miracle Makers
GUDM Founder Shelby Wells and Directors '17 Allison Drescher and '19 JD Valle worked year-round with a passionate executive board. They answer questions below to show just how much this cause means to them and the efforts they put in to make it a success.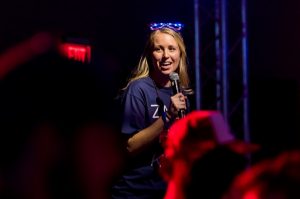 '17 Shelby Wells, Founder/Student Advisor, Public Relations Major
Why did you decide to start GUDM?
The opportunity initially fell into my lap when a senior who wanted to start it at the time was graduating, and so she passed my name along my freshman year in the spring of 2014. It didn't become a cause that truly meant something to me, though, until my niece was diagnosed with epilepsy. Then, this last November, my other niece started having seizures, too. I watched the pain and uncertainty that my brother and sister-in-law felt, not knowing what the next day would bring. These families' journeys are so hard, between every poke and IV, round of chemo, insulin shot – no matter what it is, it always brings a lot of difficulty. When families come to Dance Marathon, we want them to feel like they've stepped away from the pain, that there is light in their journey.
What is the most inspiring thing you've seen or experienced as part of GUDM?
I met Maddie in the fall of 2015 on our executive board retreat. She was born with a Congenital Diaphragmatic Hernia and had to have a feeding tube until she was 6, so she'd never had a doughnut before. We watched her eat her first doughnut on that retreat, and being able to share that moment with her and to watch her face light up as she bit into a Krispy Kreme was amazing. Each time I go to a dance marathon and go up to the hospital, I am reminded of why I do this.
What are your future plans to stay involved with Miracle Network Dance Marathon and/or GUDM?
GUDM will always be a part of my life. While I may not be the student running it I will continue to fundraise and support this cause in whatever way possible. This movement has changed my life and I am looking forward to watching it change the lives of future students and families.
Total amount raised by 2016-2017 GUDM:
$76,592.98

'17 Allison Drescher, Internal Director, Double-Major History/Political Science
Why did you become a part of GUDM's Executive Board?
When I joined GUDM my sophomore year, I was a pretty undedicated member and pretty much did the bare minimum. Then my cousin's wife had pregnancy complications and their baby, Maddox, was born at just 1 pound, 12 ounces. In that moment, I realized that GUDM is so much bigger than just dancing. My second year, I was Entertainment Chair, which is basically planning the event itself. My passion was intensified because of Maddox, and I do it for him and the kids on that hill (where Sacred Heart Children's Hospital is).
What was the significance behind the $62,000 goal?
Sixty-two children are admitted to a children's hospital in the United States every minute. We set our goal to match that number.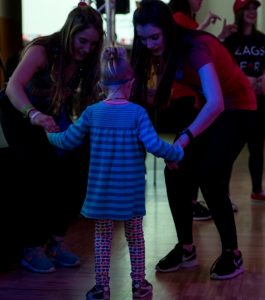 What is the most inspiring thing you've seen or experienced as part of GUDM?
At last year's event, our advisor's 12-year-old daughter, Ella, hadn't quite reached her goal of $1,000. We brought her up on stage to read the letter she had written to all of her friends and family. She talked about a friend on her soccer team who has to get treated at Sacred Heart, and she wants to start a dance marathon at Gonzaga Prep when she gets into high school and call it the Pup-a-thon. People just started lining up after that, giving her whatever they had, and within five minutes, Ella had raised enough money to surpass her goal. It's just amazing to me to see how we are influencing future Zags.
What is the number one reason you tell people to join GUDM?
GUDM's tagline is "Zags for Kids," and it's a spin on Gonzaga's philosophy of being men and women for others. I think this is so important because Gonzaga teaches us to be servant leaders with no timeframe – it's a lifelong promise. GUDM is one way to help fulfill this lifelong promise.
Number of Miracle Families in attendance at GUDM this year:
16

'19 JD Valle, External Director, Double-Major Political Science/Economics
What makes GUDM special to you?
I went to the event last year as a freshman because my assistant residence director convinced me to go. I ended up having a great time; the best part was seeing the kids who would benefit there. This cause also means a lot to me because I lost my best friend my junior year of high school to a heart condition no one knew about, and my brother was diagnosed with diabetes last summer.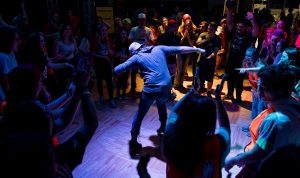 What was your role at the actual event?
For the most part, my responsibilities at the event were administrative. The team did everything necessary to make the event incredible; it was just up to Allison and me to respond to any questions and make sure the event ran smoothly. Above all else, it was our responsibility to DANCE!
What is the most inspiring thing you've seen or experienced as part of GUDM?
Meeting Maddie was really big for me. She was pretty shy at first when we visited her in the hospital after a major surgery, but I saw how strong she was and how she didn't let her illness affect her. It made it clear to me that when things are down in my life, I try to emulate her attitude.
What is the number one reason you tell people to join GUDM?
Dance for the kids who can't. It's never about us – it's about making sure kids in Sacred Heart are comfortable and are getting the treatment they need to save their lives.
Fearless Leader
Amy Swank, Director of Parent & Family Relations, has served as GUDM's advisor for the past three years. As program advisor, Swank works hard with GUDM executive board to connect them with community and campus partners, teach them how to work with Miracle families, and help them master strategic planning. Though Amy considers herself more of a "backstage manager," her coaching helps students develop the skills they will need when they leave Gonzaga.
Being program advisor means that Swank is able to watch the GUDM grow throughout the year. Millennials tend to get a bad rap in the news, oftentimes being criticized for being lazy and selfish, but Swank says that she sees her students breaking that trend, doing work for families and a local hospital that they may never use. She remarks, "It's truly beautiful and endearing to see college students working so passionately for a cause that isn't really about them."
All of the little moments leading up to the event are by far the most rewarding parts of GUDM, both for members of Executive Board and participants. "When you see our students engage with our Miracle Families in one of their darkest times, it is one of the most beautiful moments on our campus," Swank says. "It's my Zag moment, every time."
Maximum Impact
GUDM funds go straight to Sacred Heart Children's Hospital, to purchase equipment and resources that directly affect the kids and families who need the hospital's services.
To help GUDM stay motivated throughout the year, Children's Miracle Network coordinators help members brainstorm ideas, provide them with Miracle Family interactions, and put on a retreat at the hospital. Just as Shelby, Allison and JD all mentioned, seeing the kids they are raising money for is truly what inspires them. Partnership with Sacred Heart makes becoming a part of the Spokane community a lasting effect.
With GUDM, Sacred Heart is able to heal kids in more than one way. In addition to benefiting from hospital services, families also form relationships with passionate and thoughtful Zags – Zags who are dancing for the kids.