By Dale Goodwin ('86)
Social media lit up when the West Coast Conference announced Gonzaga's John Stockton would be part of the ninth class inducted into the WCC's Hall of Honor, March 4, in Las Vegas.
"It's about time." "What took the league so long?"
Truth be told, Stockton is much more comfortable quietly watching games from the stands than he is making public appearances and receiving honors. Most likely, he couldn't find excuses to deflect the honor any longer. He played basketball for the love of the game, and for no other reason. Well, except perhaps his acute desire to compete, which was critically honed on the driveway against big brother Steve at the Stockton's family home just off campus.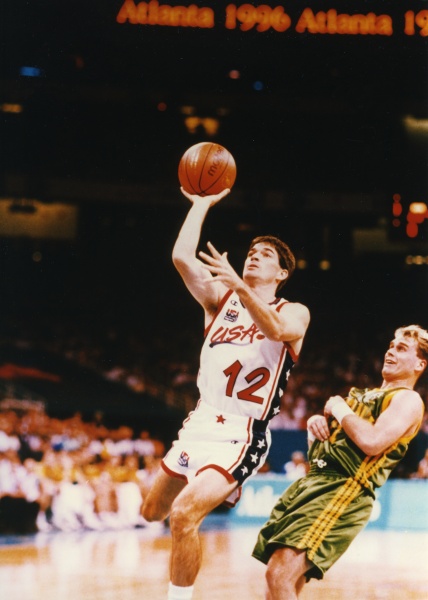 The fact that Stockton earned West Coast Athletic Conference Player of the Year honors in 1984, a spot on the NBA's Top 50 players of all time, two Olympic gold medals (1992, 1996) and a permanent place in the Naismith National Basketball Hall of Fame (2009), were incidental to his drive to compete at his highest level. That drive is still seen in Sunday pick-up games with family members, former Zags and other high school and college stars from the area.
"I remain amazed at the skill level John demonstrates," says Shann Ferch, Gonzaga professor of leadership studies and former Pepperdine and Montana State forward. "I don't think it's too far to say that he could help some NBA teams in the playoffs. Right now. But beyond the excellence, the sheer precision and beauty of how he plays the game, how his passes are still seamless, and how his understanding of basketball is stunning."
Ferch continues, "John is a man I and so many others wholeheartedly admire. He loves his family. His discernment about life is profound. He lives humbly, and with great respect for truth and compassion. He is a man of powerful conviction and faith. I've noticed not only do his is children honor him, they deeply love him: an accolade all of us who have children hope to attain. John is among the fiercest competitors I've ever had the joy of stepping onto the court with. But more than that, he inspired me to be a better man."
Family First
Today, Stockton is a family man first. He served Montana State last season as assistant coach so he could watch his senior daughter Lindsay compete in her last year of college basketball. (She now plays professional ball in Spain). And he most always found a way back to the Kennel or wherever the Bulldogs were playing to see his then-freshman daughter Laura play for the Zags. He hardly ever missed a game son David played for Gonzaga (2010-14).
"He is consistent in every aspect of his life," says Nada ('84), his wife of 32 years. "And he's loyal. You always know what you have in John. That's a blessing in this crazy mixed up world."
John and Nada have three other children: Houston played football at University of Montana, Michael played basketball at Westminster College in Salt Lake City and continues to play professional ball overseas in Greece, and Samuel, a high school freshman in Spokane . . . well, he plays basketball, too.
John's love was evident in his care for his mom, Clementine, during her waning days, and is seen in the love and gentleness in caring for his aging father, Jack, 90. "He's a great son, and so proud of his dad, who always reached out to people who needed help," Nada says. "And his dad is just as proud of him."
John's other love is his community. He has lent a hand to more people and projects behind the scenes than anyone will ever know, both in Spokane and Salt Lake City.
Stockton's career with the Utah Jazz lasted 19 seasons.
His 1,504 games remain the most ever played for one team in NBA history.
During contract negotiations one year, talks broke down between his agent and the Jazz. John respectfully told his agent he'd take care of it, and with a handshake agreed to terms with the owner.
Friend to All
John invited me and my wife Mary, a GU classmate of John's, to a dinner in his honor in Salt Lake City on the occasion of the retirement of his #12 Jazz jersey. One speaker after another told of things that made John the true gentleman that he was . . . none of the stories focused on his amazing NBA career, never mind he remains the league's career leader in steals and assists, and is a 10-time NBA all-star.
Longtime teammate and fellow Hall of Famer Karl Malone talked about his mom's illness, and the daily calls he'd receive from John asking how she was doing. When she died, Malone planned a small funeral service in a secluded part of Louisiana where he grew up. He expected only a handful to find the place in the back-country bayou, and welled with tears as he recalled seeing John enter the church.
Coach Jerry Sloan talked about a friend whose 14-year-old son was dying of cancer. Well aware of the demands on his players' time, he was reluctant to ask John for a favor. But in his passion to help a friend, Sloan asked John if he'd visit the youngster in an Ogden, Utah hospital. John agreed as long as "there's no media or publicity about this," Sloan recalled. His voice cracking, the coach told of the more-than-one-hour visit John had with this young man, talking basketball and whatever else was on the kid's mind, both faces lighting up throughout the conversation. A day later the young lad died, perhaps at peace.
Gonzaga employee Cindy Perry recalls a time when her son, playing first base on the same team as John's son, stretched for an errant throw and the hitter ran through his arm and broke it. Behind the scenes, John reportedly contacted and arranged for his orthopedic doctor to tend to this young man in the hospital ER. "We knew each other only through our connection to the baseball team, yet he went out of his way to make sure our son was seen by the best," Cindy said. "But I suspect he'll never admit being the one who arranged this special care for our son."
So while John Houston Stockton is inducted into the WCC Hall of Honor for his basketball prowess, it is his human qualities that make him a hall-of-famer in the minds of those who know him best.
Dale Goodwin covered John Stockton's Gonzaga Prep basketball career for the Spokesman-Review, served as GU's sports information director during Stockton's college career, and made several trips to see John play throughout his long professional career.