There must be something in the water in the McCarthy Athletic Center because Gonzaga men's basketball players dominate at growing luscious locks. Here are eight Zags whose hair made headlines.
by Sidnee Grubb ('18)
Kelly Olynyk. Although his golden locks look effortlessly windblown, Canadian-born Olynyk didn't have a total breeze of a time with the Zags, spending his red shirt season training hard to overcome his massive height and gain grace and coordination. The work paid off and now he plays for the Boston Celtics. Some say that his man bun has special basketball enhancing powers. (Sports Illustrated – Kelly Olynyk Hair)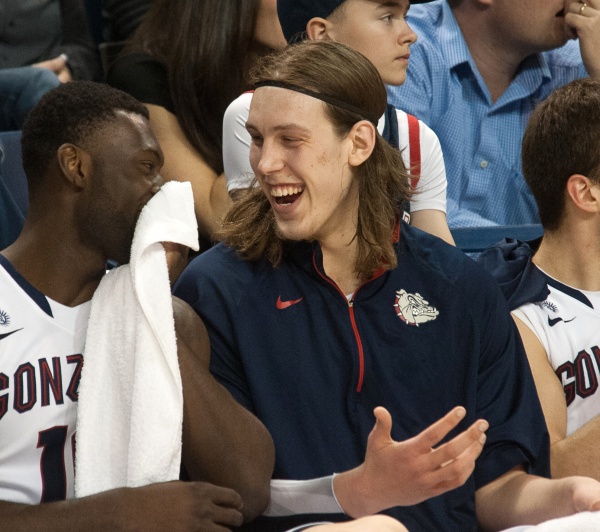 Przemek Karnowski. Another big guy with even bigger hair goals for his fans. Beards are all the rage today and Przemek puts stubble to shame. This great Spokesman-Review article cites him as pridefully calling it, "A full Polish beard."
Kevin Pangos. The video speaks for itself. Legend. (Fans Tweet Pangos.)
Steven Gray. There is nothing cooler than number 41, Steven Gray and his chin-length dreaded-do. This guy is the definition of style. (ESPN – Gray)
Rem Bakamus was once known only as "man bun" to newcomers at Gonzaga. Now, he's well respected for so much more. (See "living the dream even from the end of the bench.")
Adam Morrison is a Zag for life but not all helmets of hair hold on. He now sports a slick man bun.  See Yahoo Sports.
Ronny Turiaf could not be beat on the Zag court, in school spirit, or in hair volume. Here's more on Turiaf from the NBA.
Dan Dickau may possibly be the reigning king of this list. He sported curly locks during his time as a Zag and took it to the next level after his basketball career when he opened his own chain of barbershops. (Spokesman – Former NBA player opens The Barbers)
Who's your fave?