By Olivia Moorer ('19)
Olivia Moorer, future attorney, and staff advisor Darcy Phillips accompanied nine students to a new addition to Gonzaga's list of Mission:Possible service immersion locations. Montgomery, Alabama, was selected as a whole new type of experience, one less focused on direct service and more intently organized around opportunities to learn in depth about the fight for civil rights in the South – a movement that began with a bus boycott in the 1950s and which, contrary to popular opinion, did not magically end with the Civil Rights Act signed a week following the death of Martin Luther King, Jr. In Montgomery, students not only visited a variety of related museums and historic sites, they sat beside and listened to participants in the civil rights movement's most defining moments.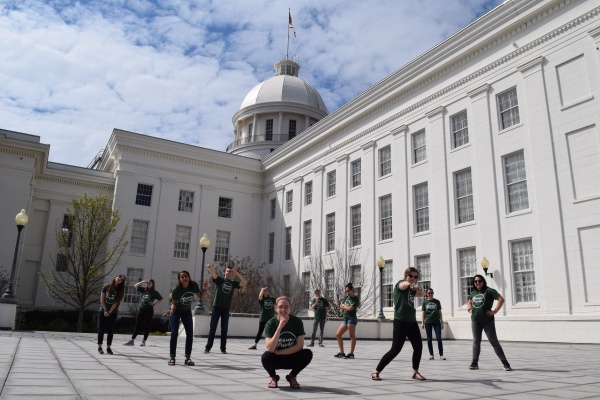 "They passed around the n-word as if it were the word 'like,'" my dad told me when he came back from visiting his relatives from Montgomery last summer. He had gone to the family reunion alone; my mom, my sister and I were not interested in the Alabama heat or the celebration on a Moorer plantation.
Two weeks after he came home, Gonzaga's service immersion coordinator called me with the news that I would not be leading a Mission:Possible trip to Phoenix, but instead to Montgomery to learn about civil rights and racial justice work. As someone interested in a law career, I was immediately thrilled. But as I told my dad about this immersion, the reality of the situation set in for me. I would be going to a place where my ancestors had been wealthy and prominent, and had owned other people's ancestors, likely related to today's Montgomery residents. He warned me that my last name is common in Alabama and that I could meet some of our relatives. That was my ultimate fear for this trip.
My family's history has always haunted me. Knowing that my family once owned slaves – however long ago – affected me. Whatever hate and torture my ancestors sowed, I reap. How could I be the descendent of such evil people? How could I be burdened with their reward? What if my family name represented not only my direct ancestors, but the Black slaves whose own names were taken away? If there was a God, why would he place me here?
These questions haunted me as I went to Montgomery, but I tried my best to ignore it, to be present and focused on the moment.
On our first day of service, we volunteered in Montgomery's only African-American Catholic school (Resurrection). It was a place where 8th graders were reading some very enlightened pieces. Images of black heroes (beyond Martin Luther King, Jr.) reminded students how amazing and valuable they are. The 1st graders had quite the amazing vocabulary and spelling skills. During lunch, I challenged them words to spell for me. "Coordinator, Gonzaga, Immersion." They got them all. One girl, Jenja, asked to spell my name. I pointed to my nametag for her to read. "M-O-O-R-E-R. Hey! That's my last name!"
My heart skipped a beat and blood rushed to my face. I hadn't met one of my relatives as dad suspected; rather, I met a descendent of those my family enslaved. In that moment, I saw how my white privilege relies on the bent back of a 7-year-old.
From there on, I felt like a visitor. Everywhere I went, learning about civil rights, I felt invalid. That I shouldn't be there. I was an intruder.
Beyond our experience at Resurrection Catholic School, our team explored some of Montgomery's most amazing initiatives – the Southern Poverty Law Center and the Equal Justice Initiative. Both are non-profit law agencies centered on finding justice for those impacted by race or economics. The more lawyers I met (in my eyes, real-life superheroes who wear blazers instead of capes) the more I felt like I belonged. Here I was, listening to a woman from the Southern Poverty Law Center whose first case out of law school was about the lynching of Michael Donald, the case that decimated the KKK; or listening to attorneys from the Equal Justice Initiative who quite literally save people's lives from the treachery of the electric chair. I was looking at all that I want to be. The feeling of certainty that I was supposed to be there in those moments hit me like a train.
And on that train another feeling of certainty came too: that God was with me and had chosen me for this path. It wasn't coincidence that I worked in the Center for Community Action and Service Learning my freshman year, or that I was selected to lead this trip to Montgomery. Through my entire Gonzaga experience, I have felt like I have been pushed down a path, and now I realize it was God showing me where I belong in this world, where he wants me to fight.
When I was younger and first starting to fall in love with social justice, my mother told me that this was God's way of working through me. I think she's right. And further, he has used the very questions I had of his existence to prove that He is real and present in my life.
It makes me realize that my family name or my ancestor's history isn't as important to who I am as who God calls me to be – and he has called me to advocate for those who need justice most.