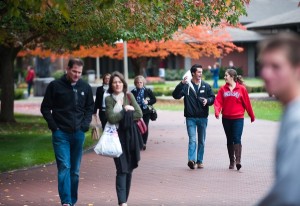 Many employers offer matching gift programs as an incentive for their employees to make charitable donations (actually, about 50% of Forbes 500 employers). All parties involved benefit from the program, and at Gonzaga the students benefit the most because funds critical to sustaining scholarships, cutting edge classrooms, and the recruitment and retention of faculty are usually designated.
Consider this: You give $250 to the Fund for Gonzaga, and you work for Boeing (Boeing is one of hundreds of companies that matches employee charitable gifts, see if your company matches by going to www.gonzaga.edu/matchinggifts). Your $250 becomes $500 after you submit your matching gift forms, usually found on your company's website, and Boeing (or your company) sends in their portion. Imagine that…a gift doubled just because you 1)are charitable and 2)submitted a form.
Thank you to all Gonzaga benefactors – and to all employers who match charitable donations.
Learn more about matching gifts at www.gonzaga.edu/matchinggifts.
Make a gift online at www.gonzaga.edu/makeagift.