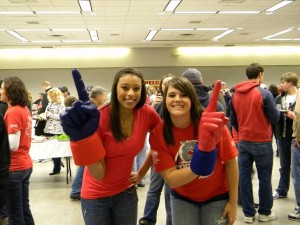 No one needs to convince Kyle McCoy of the importance of giving back to Gonzaga. For him, the reasons are as personal as they are plentiful.
"I feel like Gonzaga is part of who I am as a person," he said, "and I owe much of my success to the school."
McCoy, who came to Gonzaga from Oklahoma City, graduated in 2001 with a bachelor's degree in business. He says he feels compelled to give back because he was the beneficiary of scholarship support during his time at GU.
"I had help along the way," he said. "… Otherwise, I would have struggled to pay for school."
It's an inspiring sentiment shared by a number of fellow Zags, including Raymond Loyola, a computer engineering major who earned his Gonzaga degree in 2003.
"Other people made sacrifices so that we could go to a great school with a great alumni community," Loyola said. "I think it's fair that we eventually make that sacrifice as well to make Gonzaga a better place."
McCoy and Loyola, who now reside in Seattle, are especially involved in the Seattle Regional Scholarship, which began as nothing more than an notion within the Seattle Alumni Chapter as a direct way to help local students. The enterprise was spearheaded by chapter president Matt Sullivan and his wife, Brooke Sullivan, both 2003 graduates of GU. Other members of the chapter quickly rallied around the concept of starting an endowed scholarship that would be awarded to a Seattle-area student who demonstrated financial need.
"We started with a core group of folks in the Seattle area that are passionate about the cause," McCoy said. "And we push each other to continue the effort to the extent possible."
The Seattle Regional Scholarship is one of a growing number of regional scholarships popping up around the country. In most cases, they have been launched simply through alumni interest. The regions represented so far include three cities in Washington — Seattle, Tacoma and Grays Harbor — as well as Portland, Ore., Denver, Phoenix, the San Francisco Bay Area, Alaska and Texas.
"I think the local alumni should be promoting the regional scholarship as a way for local alumni to feel more directly connected to their school," Loyola said, "and to help alumni realize they can help make local students have a Gonzaga experience like they had."
Regional scholarships are endowed funds, able to provide scholarships once a threshold of $25,000 is reached, and will award into perpetuity as the balance grows while being managed in Gonzaga's pooled endowment. An endowed fund is different from an annual scholarship in that it will be forever maintained, ensuring students from Seattle or any other region benefit from this scholarship long term. Annual scholarships, on the other hand, are dependent on year-to-year fundraising efforts and once they are spent, must be replenished. The far-sighted planning of committed alumni, parents and friends to start endowed scholarships bring strength and sustainability to Gonzaga.
"It's a way to foster giving in our school," McCoy said, "and give back to an important cause."
The reason so many in Seattle are passionate about this enterprise, McCoy says, is that so many chapter members not only recognize the importance of Gonzaga's Jesuit education, but also likely would not have received that education without financial support. McCoy, for example, received an ROTC scholarship. That led to a military career as an intelligence officer and four tours in Afghanistan.
"My time on campus was incredibly impactful — between learning the value of service and giving," McCoy said.
When his military obligation ended in 2005, McCoy pursued an MBA at Cornell University. He now works at Goldman Sachs in Seattle, managing money for high-net-worth families, foundations and endowments.
"All along the way, Zags have intersected my life," he said. "And now I try to give back any way possible."
For McCoy and Loyola, that means supporting current and future Zags through regional scholarships.
"I loved my time at Gonzaga," said Loyola, who grew up in Everett, Wash., and works as an engineer for Boeing. "I met lifelong friends … and grew into the person I am today because of it. I want others to be able to have that experience."
And he knows it doesn't take much.
"I recognize that we are all at different points in our lives — not only personally, but in our careers and in our financial situations," he said. "However, it's important to remember that … a gift of any size is significant."
The Seattle Regional Scholarship will reach the minimum $25,000 threshold this year and will award its first scholarship in the 2013-14 academic year. To give to a scholarship in your region, visit gonzaga.edu/giveonline.