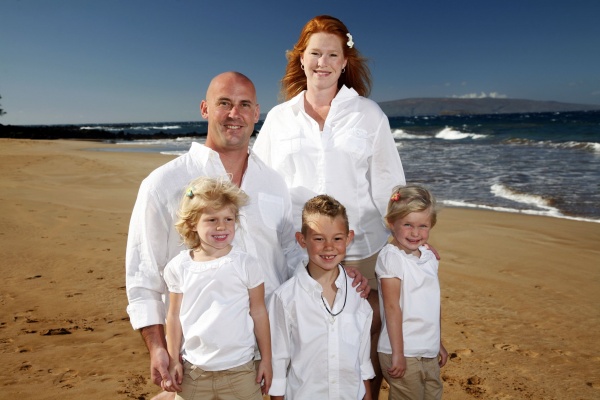 "My experiences at Gonzaga had, and are continuing to have, a very positive effect on me and my family's lives. Because of this, when structuring our philanthropic giving, Gonzaga was a clear leader."
— Blaine French ('93, '02)
Blaine French and his wife, Pamela, have always been philanthropic. Unfortunately, Blaine says, for the longest time their efforts were rather random. They might give a little here, some there. They were still giving, no less commendable, but it left them wondering if their efforts were realizing their ultimate potential.
"We determined that by planning our philanthropy, we could find a cause, an ideal that resonated with us, and make a difference," Blaine said. "We chose to make a difference somewhere that made a big difference in our lives."
Blaine and Pamela decided the biggest impact they could make would be to give back to their own community. To reach this philanthropic goal, they decided to commit to supporting Gonzaga University students by recently establishing the Spokane Regional Scholarship with a $25,000 pledge, payable over five years.
Regional scholarships are endowed funds. That is an important distinction because, unlike annual scholarships that are dependent on year-to-year fundraising, endowments ensure long-term financial benefits for students. And not just any students. Regional scholarships are a direct way to help local students who demonstrate a financial need. Once the pledge is fulfilled, the scholarship will pay out roughly $1,200 per year.
"We love the region and all it has to offer and we want to continue to see it thrive," Blaine said. "Providing opportunities and incentives for local students to attend Gonzaga allows those students to remain in the community. And among those students are the civic and business leaders of Spokane's future."
Blaine has spent the last 25 years in Spokane since moving from Alaska to attend Gonzaga. He grew up in Klawock, a town of about 800 people in Southeastern Alaska on the western coast of Prince of Wales Island. Klawock, which boasts the oldest fish hatchery in Alaska, is about 350 miles south of Juneau, the state's capital.
Blaine graduated from Gonzaga in 1993 with a bachelor's degree in electrical engineering. He later returned to earn his master's in business administration in 2002. His favorite memory from his days on campus involved running Bloomsday as Spike, the University's mascot.
"It was very hot," he said. "I am sure they retired that mascot costume after the race."
Blaine now works as a senior power trader at Shell Energy North America. His office is based in Spokane and his responsibilities include the management and trading of natural gas and power portfolios for the Pacific Northwest. He said Gonzaga's commitment to the Ignatian philosophy of teaching is still transforming his life.
"It is easy to state this as a philosophy, but much harder to truly deliver," Blaine said. "Gonzaga delivers, and has delivered for me. I left the University with critical-thinking, problem-solving and communication skills.
"The faculty also stimulated my intellectual curiosity, which has driven me to continue to increase my knowledge breadth and depth," he added. "These skills and characteristics have and continue to serve me very well in my personal and professional life."
Blaine and Pamela met in Spokane. She grew up here and is the owner of Coeur d'Alene Vacation, a vacation rental and property management company. They have three children, Blaine Jr., their 10-year-old son, and twin daughters Alyssa and Coryn, who are seven.
Like many young families, the Frenches are busy shuttling their kids to and from after-school activities and helping them with homework all while trying to find time to sit down and enjoy dinner as a family. The immediate craziness, however, has not kept them from planning for their children's future. They have already started saving for college, even if there is no guarantee any of their kids will choose Dad's alma mater.
"We want them to critically evaluate where they attend college and how that fits into their plans and goals," Blaine said. "Of course, we would be very proud if they chose to attend Gonzaga."
Regardless, Blaine and Pamela are satisfied knowing they will be helping students in need with the Spokane Regional Scholarship. And the help will come sooner rather than later, a benefit of the narrowing of their philanthropic focus.
"My experiences at Gonzaga had, and are continuing to have, a very positive effect on me and my family's lives," he said. "Because of this, when structuring our philanthropic giving, Gonzaga was a clear leader."