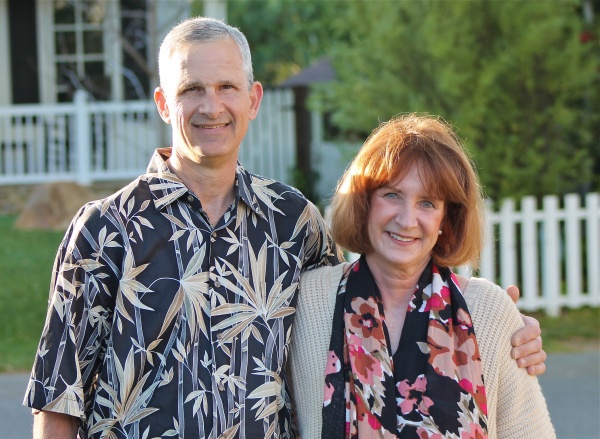 Jay Cutler was raised to care for others, to give back at least as much as was given to him. It's why he has volunteered for Habitat for Humanity for the last 13 years. It's why his wife, Karen, serves on their local hospital's board of trustees. It's why two of the couple's four children are adopted.
The desire to serve is also why Jay and Karen do whatever they can to support higher education. It is an enterprise, Jay says, that just might make the biggest difference of all.
"How do we make this deteriorating world of ours a better place for individuals and families to grow and prosper?" Jay asked rhetorically. "The only way is through education.
"It can't be done with our current system of student loans," he added. "We, who have the capability of helping, need to help."
That is why the Cutlers recently made a gift to the Fund for Gonzaga. The initiative plays a critical role in balancing the University's budget and gives Gonzaga's leadership the flexibility to utilize the funds for areas of greatest need. Whether it is the hiring of additional faculty, upgrading to the latest technology or providing student scholarships, the Fund for Gonzaga affects every facet of campus.
"We donated to the general fund so that it could be used for the benefit of students who need scholarship money," Jay said "Sam gets scholarship money from the school and we felt this is a small way of paying it forward."
Sam is the youngest of Jay and Karen's four children. He recently graduated from Gonzaga with a degree in computer engineering. He came to Spokane from California, where his family lives in Palos Verdes Estates, part of the greater Los Angeles area.
Much like his parents, Sam actively serves his community. In addition to working at a homeless shelter in Spokane, Sam will spend this coming summer in Los Angeles volunteering for Homeboy Industries, a non-profit organization that helps at-risk youth become positive members of their communities. Founded by Gonzaga alumnus Rev. Greg Boyle, S.J., it is the largest gang-intervention program in the country.
"Sam has been brought up to care for others and give back to society," Jay said. "We are proud of Sam's accomplishments and look forward to having him serve humanity in any way he sees fit."
Jay, who spent years working in his family's publishing business, and his wife, a former human resources manager, are both retired. He says they would have sent Sam to any school he wanted, but the scholarship support he received from Gonzaga was a welcome relief. Now, with their gift of $5,000 to the Fund for Gonzaga, they are just trying to pay it forward.
"We hope our gift, along with gifts from others, will provide the opportunity," Jay said, "for a student who is less fortunate to attend Gonzaga, which we believe to be a top platform for higher education."