In the late 1950s and early 1960s, if a Gonzaga gentleman wished to pick up a young lady for a date, he would have to stop by the front desk of her residence hall to have a receptionist buzz the young woman's room, as men were not allowed to roam freely in the women's halls in those days. Sometime around 1958, Kathie Acher ('61) worked at the front desk of Madonna Hall – the only women's dormitory at the time. It was there that she first saw Ron Riel ('62).
"Ron would come over and get his girlfriend," she recalled. One evening when he didn't have a date, Ron decided to call on Kathie instead. She agreed to go out with him, launching a relationship that has been going strong ever since.
Ron Riel came to Gonzaga University from a hop farm south of Yakima, Wash. He began his collegiate career as an electrical engineering major, but quickly found it to be an extremely challenging path.
"I didn't realize it was the toughest course program there was," he said. "I did my best, but differential equations, electrical A/C motors, advanced physics – I just couldn't keep up with the classes." Ron was ready to call it quits in his third year, but instead, he changed his major to business administration and marketing. "I had some really good classes and some really good teachers," he said.
Originally from Helena, Montana, Kathie (Acher) Riel came to Gonzaga to study education.
"It was a great experience and I had great classes," she said. "English and history were my favorites." Kathie was actively involved in Gonzaga branch of the national women's service organization, the National Spurs, which was affiliated with the Intercollegiate Knights. She considered her participation in Spurs her sophomore year to be a very important part of her collegiate experience.
After graduation, Kathie stayed in the Spokane area to teach while Ron finished his degree. During that year, Ron took Kathie out to dinner at the Matador Room at the Davenport Hotel and proposed.
"I've been a lucky kid ever since," said Ron, who joined the Navy shortly after graduating from Gonzaga. He and Kathie went on to raise five children together, three of whom also attended the University. To this day, Ron and Kathie truly value the lessons they took from their time at GU.
"Having a good moral background is a big part of it," said Kathie. "It stays with you."
"The Jesuit beliefs and the things I learned in philosophy – I've used those all my life," said Ron, who has also kept the lessons he received during his time with the Gonzaga University Glee Club, under the direction of Lyle Moore, close to his heart.
"There will only be two or three people in your entire life that you can look back on as having been that influential," Ron said. "Lyle was one of those people. The Men's Glee Club was the basketball team of that era. Lyle Moore taught us more than just music – he taught us about life." Ron was just returning to Gonzaga with his new major when Moore took him under his wing.
"My roommate, Mike Kobluk (who went on to be part of the famed folk trio of the 1960s known as The Chad Mitchell Trio), said, 'Come on out and sing with the club!' and I said, 'I don't know how to sing!'" admitted Ron. "I auditioned for Lyle Moore and he said, 'You're pretty rough, but I think we can work with you.' He took it upon himself to provide me with musical direction and teach me a whole bunch of stuff about the rest of the world." Ron sang with the Glee Club for the next two years and still feels close to his brothers in song.
"The club has reunions every year," said Kathie.
"They've formed such a bond that they're still getting together," added Ron. "We can't sing as well as we used to, but we still do sing when we get together. We have a scholarship endowment that we contribute to, which is neat for us to be able to help kids in Lyle's name. He was such an important fellow."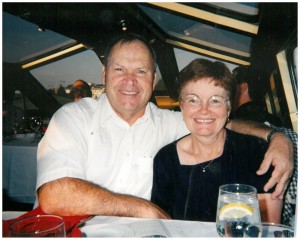 Ron and Kathie give together to the Lyle W. Moore scholarship, which is awarded to Gonzaga students involved in the arts. They also give in support Gonzaga athletics, the Fund for Gonzaga and other areas.
"We have been so influenced by Gonzaga over the years," said Ron.
"Gonzaga is very big in our lives," Kathie agreed.