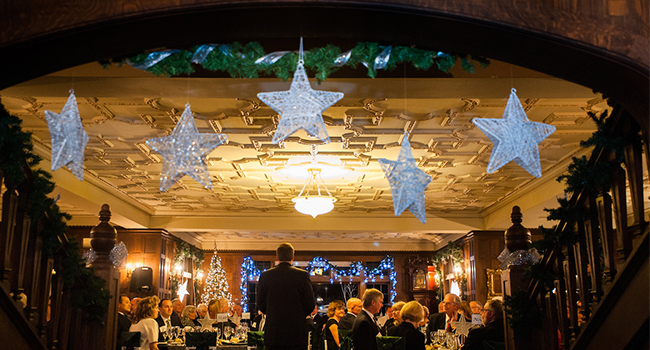 As this semester comes quickly to its end, for many students, returning home is the light at the end of the tunnel full of projects, papers and finals. At the same time, though, returning home can be a challenge, for both you and your student. Below we offer some insights into what both you and your student might experience, and some tips for a successful holiday season and break.
Updates from our Student Development department.
There's no denying that the last three months have been full of undeniable change in my life. Freshman year is one of the most formative years in a young adult's life. It's the first step on the path to adulthood.
Questions and answers you and your student may have about internships.
As the days are shorter and nights draw longer, we are grateful for warmth and light.  And in this season we are grateful for the light who shines in the darkness and came to us 2016 years ago in a manger.
It is hard to believe that the sun is quickly setting on our study abroad experience. Before embarking on this adventure, several people told me time would fly by, but no one warned me that three months would actually feel like three minutes.
Congratulations on the completion of your student's first semester at Gonzaga University! Your student will be joining you around the family table soon, and may be looking to you for help navigating and making sense of their first semester experience.
It may not be the first conversation you have when your student arrives home for the holidays, but meal plan choice is worth spending a few minutes chatting about before returning to campus. This is the first year Bulldog Bucks are included as part of the mandatory meal plans.
Thanksgiving break went well for us here at Gonzaga. I hope the time with your students over the holiday was amazing. We are soon approaching the winter break, where most students will be leaving us for about month to be with their family and friends. Unfortunately, local thieves also know our student's schedules.
'Tis the season for completing your student's 2017-2018 FAFSA and thinking about funding opportunities for the upcoming academic year! Although it may seem early, many scholarship deadlines are fast approaching or will round the corner before you know it.
The Spring 2017 Statement of Account will be available to view on CASHNet on December 13, 2016 for those students/families not currently participating in a monthly payment plan. The Spring 2017 payment and payment arrangement deadline is January 3, 2017.
Senior families, congratulations, your student is nearing the finish line! Please join us to celebrate graduation at Commencement Weekend, May 12-14, 2017 — also Mother's Day weekend.
If you're familiar with Gonzaga University, you have probably (at least) heard of Gonzaga-in-Florence. Coming from Mississippi, I didn't know much about the university and knew nothing about the GIF program. Four months on the job have quickly changed that!
As this semester comes to a close, many families are eagerly anticipating the return of their students for the holiday season. But one question on everyone's mind is what to get a college student in 2016. Luckily, we have the answer: magic Tapingo credit!
During the Spring Semester, First Year Experience Programs welcomes another amazing group of new Zags into our community at Spring Orientation which will be Tuesday, January 17, 2017 in the Hemmingson Center.
Reminder – During Finals Students Need to Eat
Zag Dining has created a special meal plan during finals.