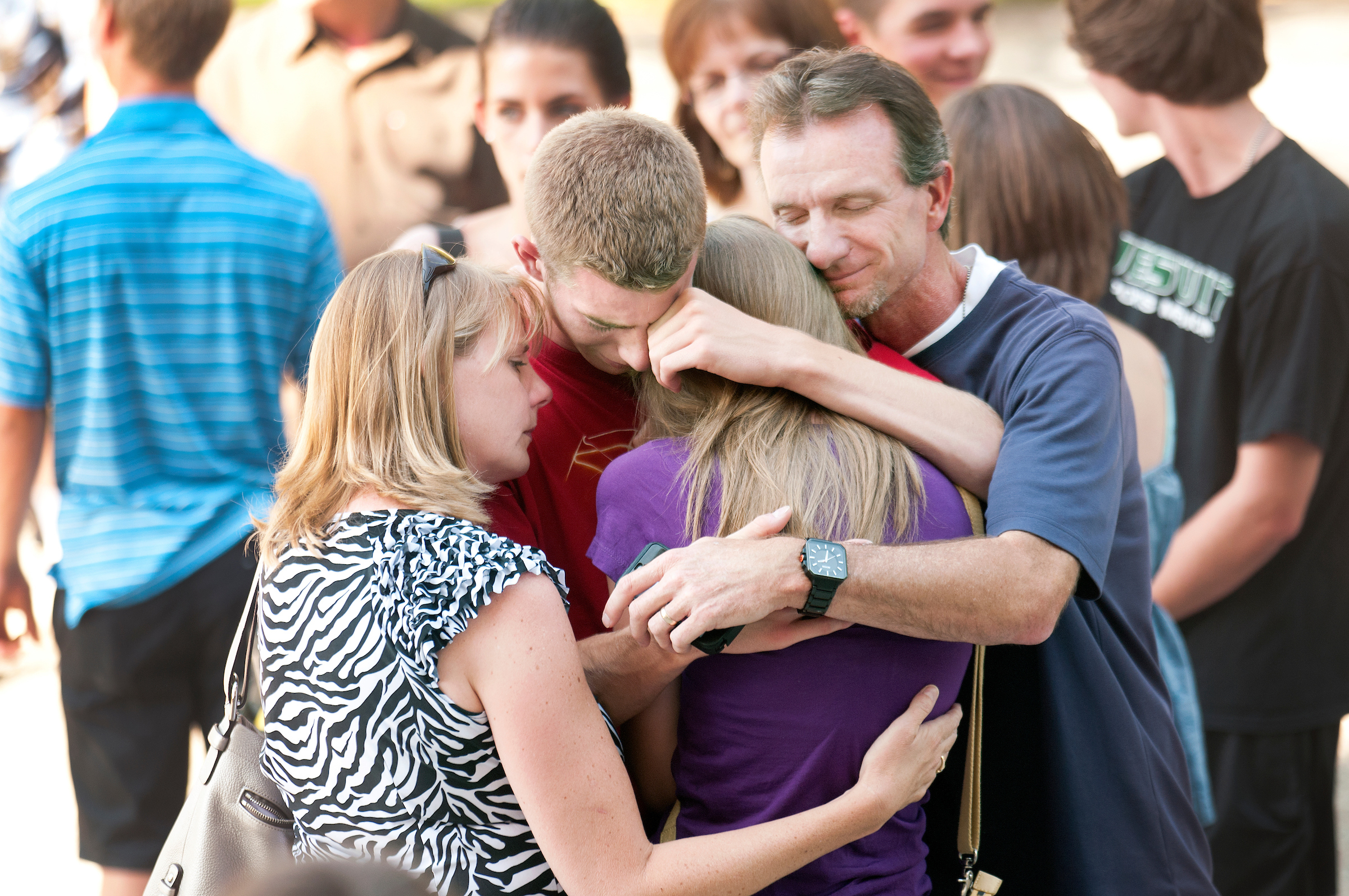 Parent and Family of the Year Award Winner-Sue Phillips
When my dad died in May at the end of my freshman year at Gonzaga, going back to school was the last thing I wanted to do. After deciding to stay home following spring break of that year, I was content to leave my brief chapter at Gonzaga behind me. School seemed so trivial, nothing more than a pesky hurdle when grappling with the huge unknown entity of death. I didn't want to go back and try to fill the same shoes that I had left.
Parent and Family of the Year Award Winner-The Fealy Family
Hearing my dad cheering from the crowd, finding notes of encouragement from my mom in my lunch box, and memories of both of them taking the time to play catch with me even though it was more like a game of fetch for them. These are the moments of love and sacrifice that I cherish the most. When I think of those who have served me throughout my life, the most common trait found in these people is sacrifice and within sacrifice is a choice to be selfless. I cannot think of anyone who has chosen day in and day out to put others before themselves like my parents, Steve and Marieke Fealy have.
When the results of the spring Bulldog Bucks survey were complete the word "LOVE" appeared in a majority of the comments submitted by students about the new meal plan structure. Now that this year has come to an end, it is important to understand how the new program will impact students in the future. Below are some quick facts to keep on mind.
At the beginning of this past weekend, a group of our students posted a video on YouTube entitled, "Where Were You When." The video, which was addressed to me, Vice President Biggs Garbuio, Academic Vice President O'Connell Killen, and several senior administrators, presents a series of testimonial statements by our students, relating first-person accounts of racial, ethnic, religious, and sexual orientation discrimination and bias. The reported incidents took place on campus, off-campus, in the classroom and outside of it; they involve fellow students, faculty, staff and community members. The statements are juxtaposed with the words of the University's Mission Statement, and demand accountability not only with the Mission, but for equitable, fair, and appropriate treatment of those students who come from under-represented groups.
Ciao! Or… hello now, I suppose. I am finally back to my long-lost routine here in the States, but so much has changed since the last time I was partaking in my daily Starbucks run. The past four months in Florence have been incredible, and it was such a blessing to have the experiences I did travelling at this age. I learned about new people, cultures, and how to overcome (many) obstacles that I had to face throughout the study abroad experience. Although I thought I knew what this semester would have in store for me, and genuinely thought I understood the way cultures differed and interacted without leaving home, this journey truly taught me so much more about the world and humanity than I could have learned here in the States.
The Hemm Den Opens in the John J. Hemmingson Building
On April 19, after an anticipated wait, the new student lounge was revealed in the lower level of the Hemmingson Center. The "Hemm Den" is the latest addition to the student center, giving the students a new space to study, meet up with friends, or even take a nap between classes. The Hemm Den consists of furniture and decor picked by the students, for the students, including a variety of chairs, tables, booths, couches, white board walls, a stage and more.
New Student Orientation Weekend and Family Orientation is Friday, August 25 – Monday, August 28
GUide Core, five student leaders in First Year Experience Programs who plan New Student Orientation, have worked through the spring semester, in collaboration with Parent & Family Relations and the Gonzaga University Event Services Team (GUEST) to hire over 250 student volunteer leaders, who will help welcome the Class of 2021 in the fall. Orientation Weekend would not be possible without the help and support of the entire Zag community.
First Year Experience Programs is focused on providing your Zag with resources during their first year to develop their sense of belonging to Gonzaga University. Orientation is a process, not an event and our freshman student office assistant has provided a reflection on her first year.
Top 10 Things Your Student Should Be Doing Over the Summer
Last month we discussed commonly asked questions about the services available to students and alumni through Career & Professional Development. This month, we will be outlining the top 10 things your student should be doing over the summer by incorporating some of last month's strategies with summer specific tactics to aid you in helping your students set themselves up for career and professional success over the summer.
Coordinating Care Here, There, and Everywhere!
As we approach the end of the year, we are hearing about the wonderful plans our Zags have for their summer breaks. Some are staying in Spokane, many are headed home, and others are off to new adventures abroad. One of the key components of these summer plans, though often overlooked, is ensuring continuity of care during their time away from campus. Please keep reading for suggestions from the Student Health Center to keep students well this summer.