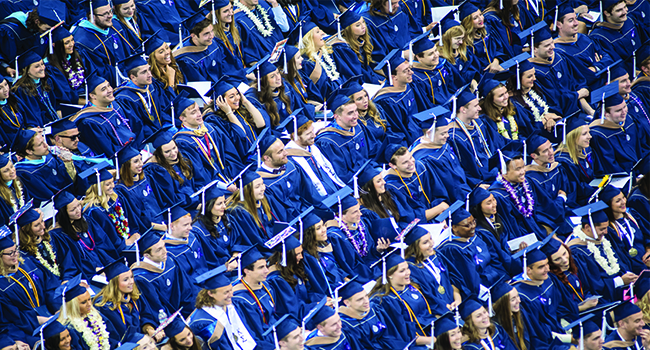 Senior year in college can be both exciting and terrifying.  It can include the highest highs and also some of the lowest lows our students will experience.  Above all, it is a significant time of transition for students as they prepare to leave the safety net of campus life and move into the dreaded "real world" that everyone has been telling them about over the past four years.
ZagAlert-Gonzaga's Emergency Notification System
Gonzaga periodically conducts a technical test of our emergency notification system, ZagAlert.  The Fall 2016 test is scheduled for Friday, October 14 at 9:15 a.m.
And that means great opportunities for ANY Zag to engage in professional growth and development. Whether this is your Zag's first or last year on campus, October's Career Month is designed to equip students.
What's Happening at Hemmingson
A series of weekend activities every Friday and Saturday night in the Hemmingson Center from 10 AM to 1:30 AM.
The practice of Pilgrimage, or sacred journey, is nearly as old as human civilization itself and can be found, in some form or another, in many different cultures worldwide.
Travel Safety while Studying Abroad
This was a great time to visit Gonzaga University and see the leaves change, but many parents were visiting Gonzaga because their students applied and had been accepted to study abroad this spring.  This weekend marks only the 2nd semester that the Study Abroad Office has offered the Parent and Families Pre-Departure session.
Upper Division Student Housing
Recently, sophomore and junior students were notified that the Upper Division Sign-Up process will take place in November this year instead of February.
Each year we anticipate and prepare for the flu season in hopes that we can minimize illness on our campus.  While we haven't seen too many cases of flu-like illness on campus during this academic year, we do anticipate that this will change as the flu season approaches.
 Traveling Home for the Holidays
For many of our students, the first time they visit home as a college student will be during the Thanksgiving break.  This visit is almost always a time our students look forward to, as it is a well-deserved break from the pressure of daily college and academic life.
Meet Gonzaga's University Advancement Team
As part of the Gonzaga family, you'll likely receive communications from the Office of University Advancement, a division at Gonzaga University that includes the Alumni Association, Marketing and Communications, and the Development Office.
Bulldog Bucks/Meal Plan Budget Guide Available
This is the first year Bulldog Bucks are part of the meal plan. Students are very excited about the added flexibility and increased dining options.
First Year Experience Programs has opportunities for your Zag to be involved in our How to Zag Extended Orientation programs. We strongly believe Orientation is a process, not an event.  It takes time to learn what it means to be a Zag. Our students continue transitioning in this new chapter of their lives during the fall semester.
When arriving at college, many students have stars in their eyes and think they will be best friends with their roommate. Many students have an initial honeymoon period in which things are great and they love their roommate.
GIF Families- "To Be Continued"
Ciao! My name is Hannah Eoff and I'm a junior at Gonzaga, studying Public Relations and Promotions. Traveling abroad has been an amazing opportunity for me for many reasons, including the fact that this is my first time traveling out of the country.
OCTOBER STUDENT DEVELOPMENT NEWSLETTER
What is happening in the area of Student Development.
Since summer, the sightings of creepy or scary clowns have spread across the country. In many states, people have reported seeing clowns standing on the side of roads at night, in parking lots, outside schools, near wooded areas and on community trails.
Safety First, Help Us Keep Your Zag Safe
We are a little over a month into the school year and you can still feel excitement among the students.  For some, it has been a mix of emotion as, sadly, a few have been the victim of theft or other crimes.