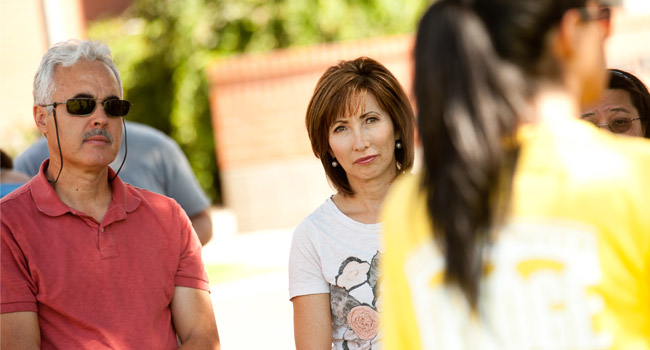 While we are still in the middle of another beautiful Spokane summer, the increasing activity on campus is making it clear that the new school year is fast approaching. Many of our new students and parents ask us what they should be doing over the summer to prepare for the start of college. One of the most important pieces of advice I give to parents is to plan ahead for health care. Students often do not think about their ongoing health care needs, especially when it comes to mental health.
This schedule is tentative and is subject to change. You and your student will receive separate itineraries upon check-in at the Orientation Station on the first day of Orientation.
First, and most importantly, the team at the Health Center would like to offer an enthusiastic welcome to our incoming freshmen class as well as all of our returning students!
Students who are registered and have not already signed up for an installment payment plan, will have their Fall 2014 Statement of Account ready to view on CASHNet on July 18, 2014. Payment or payment arrangements are due by August 8, 2014.
Not only does the Housing & Residence Life department house a large number of students – we also employ many students and professional staff to assist your student while he/she lives on campus. Below is a brief summary of a few of our positions.
Philanthropy is part of our culture at Gonzaga. After all, it is part of the University's mission to "foster a mature commitment to the dignity of the human person, social justice, diversity, intercultural competence, global engagement, solidarity with the poor and vulnerable, and care for the planet."
As summer is winding down (where did it go?!) you are probably starting to think about bringing your Zag to campus—whether for the first time or the fourth time. What you might not be thinking about yet is what comes after your student's time at Gonzaga; but let me assure you that we spend all our time thinking about it!
There is a common fallacy that both students and parents come to college with: that students won't have time to work, or that working will interfere with their academics. In actuality, working up to about 15 hours per week can positively contribute to a student's investment in staying in college and graduating. So, instead of interfering, working is what students ought to be doing.
I want to extend a warm welcome to you, your family, and especially your student as you all embark on this exciting time. My name is Kelly Alvarado. I am the Manager of the First Year Experience Programs. When I started college as a first generation, Latina college student I had to navigate through college resources alone while trying to explain them to my family.
Being a Zag means more to me than attending class, camping out in Tent City, or winning intramural championships. It means more than making friends for life, studying late at night, or discovering my career. At Gonzaga, we are called to live greater, to step outside of our comfort zones and engage in what St. Ignatius, founder of the Jesuits, calls the "Magis," literally "the more."
Thank you for entrusting Gonzaga University with your student for the next few years. We know firsts can be exciting and anxiety provoking – first kisses, first day on the job, first man on the moon – and that's why we want to thank you for taking the first step in your students college career. We are excited to welcome them to our community.
College is complicated enough; enjoying a meal at the resident dining hall doesn't have to be! Choosing meals can present undue anxiety for the growing number of students who arrive on college campuses with food allergies or gluten intolerance. Last year alone, Zag Dining chefs worked personally with nearly 200 students with a variety of dietary needs and restrictions.
The transition to college life is an exciting, hectic experience-make that transition a little smoother with one of our wholesome, delicious Welcome Packages. Our Office of Parent and Family Relations is sponsoring and distributing Welcome Packages for our incoming Gonzaga students.
Spokane's only Forbes Travel Guide Four-Star and AAA Four-Diamond rated resort, during the Gonzaga Orientation weekend.