Caroline Hamilton
May 31, 2017
Today was a very eventful last day in Beijing. We spent the morning at Qualcomm, and it was very interesting learning about the wireless technology company. Mainly known for "Snapdragon," which powers many smartphones, Qualcomm ultimately is short for Quality Communications, is the world's widest semiconductor company, and is based out of San Diego. I really enjoyed learning about this company that I had never heard of before, and realizing how big of a role they play in today's society. The first thing Qualcomm created was a satellite for driving, and the company grew from there. Qualcomm's technology is found in smartphones, tablets and more. Qualcomm is a leading company in innovative research and development, with cumulative research and development spending at around 41 billion dollars. They have had many milestones as a leading company, and one specifically is that they had the first processor to break the one gigahertz speed barrier.
Qualcomm was inspiring for me from a job standpoint and seeing a company and its environment that I potentially would like to work at. According to employees, Qualcomm is a very collaborative environment, which I find inspiring. In addition, Qualcomm is not just innovative in their technology; they support children in STEM and the FIRST program. The emphasis that Qualcomm places on the future is very important and something I find inspiring. Qualcomm states that they are "inventors, visionaries, risk takers, and pioneers." The three pillars of Qualcomm's vision seem to be very cohesive with their statement of who they are. Their three pillars are: enhanced mobile broadband, mission-critical services, and massive internet of things. The seven founders of Qualcomm essentially wanted to create a company that brought a revolution to society and make life better. This extremely innovative company "challenges boundaries" and one way they are doing this is leading the path to a 5G network. The presenter displayed to us a chart that shows where Qualcomm is on the road to 5G and what the world standard is. In 5G, speed is a key change; things will simply be faster. In 5G the goal is to also communicate with machines, as opposed to just humans. I really appreciated Qualcomm's clear vision of who they are, focus on what they would like to do next, as well as the global scale of Qualcomm as a whole, with close to 30,000 total employees, 110 locations worldwide and 67 languages spoken.
In Xi'an, we visited Micron, which is a memory company. While both Micron and Qualcomm work with chips, Qualcomm is not in competition with Micron; they are actually complementary to one another. It was however, interesting to note that both companies stated that Intel was a major competitor. Another major competitor for Qualcomm is MediaTech, while we learned that Apple is not a direct competitor. I think it is easy to generalize what a company does by categorizing the company, and this visit to Qualcomm clearly showed me that Micron and Qualcomm are not just "technology" companies. Each company is much more specialized than I had previously thought, which was really beneficial for me to learn. I look forward to continue comparing other businesses we visit to companies such as Qualcomm and Micron, and learning about just how much variation there is between companies and occupations available within these companies.
After learning about Qualcomm through a presentation and having a good understanding of what they stand for, what they do, and who they are as a company, we had the opportunity to observe some of Qualcomm's research and development testing lab. I thoroughly enjoyed seeing some programs they are developing that are really beneficial in everyday life. One specific program that Qualcomm is working on implementing into cars is a tracker that informs the driver when it is unsafe to pass a car on a two lane road. Previously in the presentation, we learned about how many items are now tying into digital intelligence and how computers have a sort of "6th sense." This simulation with the car tracker provided a very clear example of this digital intelligence and a preview of what technology in the imminent future can do.
After the morning at Qualcomm, we had a delicious dim sum lunch which was located in the same building as Qualcomm. I can confidently say that it was at this lunch that I had the exciting revelation that I had become a semi-expert in using chopsticks! This realization truly was a highlight of my day, and the fun continued when I was able to implement some Mandarin words when ordering my food. While the phrases only equate to "thank you," "sorry", "you're welcome" and "yes," these are four more phrases than I knew coming to China, so I was content.
Spending the past couple days at places such as Tiananmen Square and the Forbidden City, the Olympic Park, the Great Wall, and Summer Palace has given me a good glimpse of Beijing and all the history that comes along with it. However, with an afternoon free after Qualcomm and the great lunch, I knew there were so many possibilities for me on our last day in Beijing. I love pandas, and had originally planned on spending the afternoon at the zoo, but with a group of me and three others, we ultimately decided to adventure to the Temple of Heaven. The taxi ride to the Temple of Heaven was half of the fun, as we got to observe Beijing along the ride. The city has interesting roads, with four "rings" of roads around the city, with the first ring being the closest to the center of Beijing. We traveled to the Temple of Heaven, and the very urban surroundings continued when we arrived. It amazed me that Beijing, a huge city with land that is expensive to obtain, is able to have a huge park with a temple in the middle of the city. The Temple of Heaven was beautiful, with a palace in it, the temple itself, and very well-kept greens with flowers. At the Temple of Heaven, we saw a group of three young girls who said "hello" to us, and when we responded with "hi, how are you?" to them, I was reminded of what we had learned about Chinese children and what English they are taught right away: "hello", "I'm fine thanks", and "thank you" being the main ones. Because of this, it was humorous that they responded to our "how are you?' with an "I'm fine, thanks," very cohesive with my guess for what they would say.
Overall, our last day in Beijing was a successful day learning about the future of technology at Qualcomm, and observing the beautiful Temple of Heaven. I am excited to see what Ningbo and Shanghai bring and how they compare to the cities we have already been to.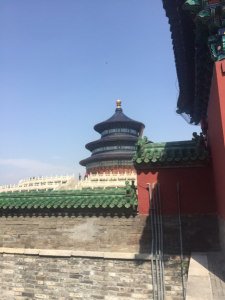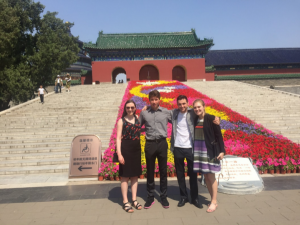 Temple of Heaven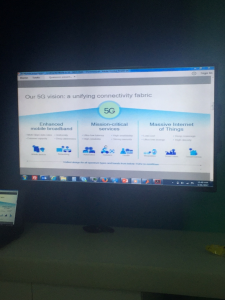 Learning about 5G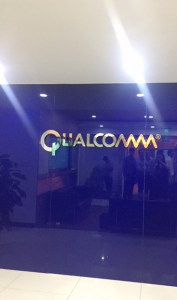 Arriving at Qualcomm