Blog Monday June 5th
By: Julie Baker
Following a very action-packed day of sight seeing yesterday, I was very excited to experience some of the business aspects of Shanghai today by visiting both Nike and Asia Pulp and Paper.  Our group had been anxiously awaiting the chance to visit the Nike office since the beginning of the trip.  First of all, we had already visited a Nike office and factory in Shenzhen, so we were awaiting the chance to ask more questions and learn about their presence in both Shanghai and the larger China area.  Additionally, a father of one of the students in our group, Coby, works at this Nike office, and we were looking forward to his presentation.  We had also heard that the group last year had the chance to shop at the employee store and receive the 40% employee discount, and we had been hoping to receive the same opportunity.
We headed to Nike fairly early, since it was quite a long bus ride to get there.  Nike is located in two beautiful buildings in Shanghai, and I became very excited as the bus approached the offices.  We were greeted by two women who gave us a tour of the buildings, and all of us agreed that this would definitely be our ideal office situation if we could work anywhere that we wanted.  The Nike Campus includes a large gym, a basketball court, a soccer field, as well as artwork and statues everywhere all of which relate to Nike.  For instance, there was a statue in the grass that showed the path of a tennis ball in Li Na's match, which revealed the intensity of the match.  There were many pictures of important Nike donors and athletes as well.  We were all very impressed by the tour and agreed that this Nike campus would be an ideal place to work!
Next, we were given a presentation by Coby's dad, Dennis, who is the head of the retail owned operations of Nike in China and a man named Gavin Lindberg who is the CFO of Nike in China. The presentation consisted of three parts: "Who we are," "How we serve," and "Why we are winning."   Nike originally started with the mission of serving athletes by making them better, and both presenters said that when Nike goes off track, they need to return to this mission and then it will continue to succeed.  Nike, however, is definitely a growth company and believes that it can serve everyone with the statement that "If you have a body, then you are an athlete" and the goal of bringing inspiration and innovation to every athlete in the world.  This gives Nike the chance to target every demographic, from all genders, ages, and geographic locations.  Nike finds it extremely important to establish a presence in China for many reasons.  China has the second largest market for Nike in the world, following closely behind the United States.  Also, the Chinese millennial is no doubt one of the largest and most important consumer demographics to target, since it has a population of 450 million, which is larger than the entire United States. Nike serves by always targeting the consumer first, who is the athlete and then serves through inspiration, innovation, and enablement. The office in China takes the innovation that is created in the Nike headquarters in Beaverton, Oregon and transforms this to fit the Chinese consumer's wants and needs.  Specifically in China, Nike has had to work closely with the government as well as use the Chinese modes of communication and shopping such as Alibaba, Tmall and WeChat.  They have furthered their presence in China by getting involved with the community and, therefore, establishing brand identity.
After the presentation, we were given the chance to ask Dennis and Gavin anything that we wanted, which ranged from questions about Nike, Nike in China, as well as their personal lives in China.  As we had seen yesterday in the underground markets, one of the huge problems for companies in China is that people recreate their products and sell them for a cheaper price.  So, someone from our group asked how Nike deals with this issue.  It turns out, Nike recognizes that there are always going to be fake Nike products being sold, and believe that the people buying these are not the consumers that they want.  Nike does have a team working to find and attempt to stop these underground companies, but it is not one of their main focuses.  Instead, they are working to increase the amount of people buying their actual and higher-quality products.
After we finished at the factory, our dreams were met and we were allowed to shop in the employee store with the discount!  Most of us bought at least one item, some of us bought closer to 10 items.  We also stopped for lunch in the Nike buildings, and I ate at a sandwhich shop that had actually just opened today. It was very good, so I imagine it will do well there.
Next, we headed back to the bus and drove to a very modern building which housed the company Asia Pulp and Paper.  I had never heard of this company before, but was excited to hear that they are one of the largest paper producing companies in the world and that they produce all sorts of products ranging from tissues and notebooks to toilet paper.  Jeff Lindsay, head of intellectual property at the company, presented to us about both the company as well as his own experience working in China.  He has worked in China for 6 years and went to law school to specialize in writing patents.  He informed us that China is leading the world in terms of patents, so it is a very interesting place for him to work.  Asia Pulp and Paper's success is largely due to the fact that they have invested millions of dollars into their production process in order to be able to produce paper at the cheapest price possible.  For example, they own the world's largest paper producing machine, which costs $200 million.  Jeff explained the paper production process, which has actually increased China's forestland from 8% to 21% through afforestation. This transitioned Jeff into stating that despite common belief, China does have very strict environmental regulations, and Asia Pulp and Paper strives to be sustainable and an environmentally friendly company.  Very few, if any, companies that we have visited so far have talked about China's environmental regulations, so it was comforting to learn about them.
A woman named Sue spoke to us about her charity work in China through a company called the Yi Cong Foundation, which Asia Pulp and Paper supports.  This was an interesting presentation, because we had not heard about a prominent charity in China before, or had seen the type of poverty that she described.
Since we were all pretty hungry following two long, but very informative business visits, we headed to Yershari Restaurant for our "Closing Dinner."  This restaurant is known for its lamb, so we had a lot of lamb skewers and lamb fried rice. We also ate doughnuts that had cantaloupe in the middle, which were definitely something that I had never tried before.  We ordered a ton of food, and so we all left full and satisfied after a great day!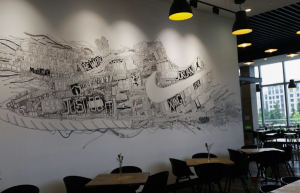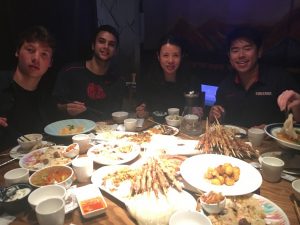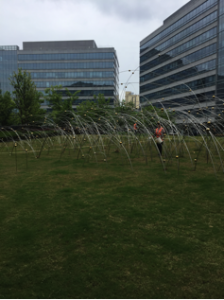 Coby, Cory, Proffessor Xu, and Justin at dinner
Tennis artwork at Nike offices
Artwork on the walls at Nike