May 23
By Cory Cravalho
Today was our visit to the Nike/Deans shoe factory in Shenzen, China! We were all up early and dressed in our Nike attire to show our support for the company we would be visiting.  It was really cool to see how much all of my classmates as well as myself support and are loyal to the brand Nike.  Nike has more brand loyalty than almost any other company in both the US and China.
The bus ride from Shenzhen to Huizhou (where the Deans shoe Factory is located) was about two hours.  Finally, we arrived to the factory that was very isolated from any shops or big cities and we were eager to go inside and see what goes into the making of a Nike running shoe.  Each Deans Factory in China deals with the creation of different type of shoe.  For example in Huizhou, they had only running shoes, while other factories may focus on basketball, baseball or skating shoes.  The factory we visited had over 15,000 employees working and it was almost like its own little city.  Employees of Deans factory had dorms as well as a restaurant but not much else in terms of entertainment. We were amazed at how isolated and far away from everything this factory was.  Many employee's try to get away and go into the city life of Shenzhen on the weekends from what we gathered.  The dorm style living quarters were built straight up and housed more people than our entire school of Gonzaga.
Once welcomed into the offices of Deans we sat down and listened to a few short presentations on the aspects of the factory.  We were also asked at this point to put our phones in a locker where they would be kept the rest of the day.  This was for security of product and technology purposes as well as maybe based on the fact that the working conditions in the factory may reflect poorly on Nike or Deans. Nike chooses to not have any of its own factories because if any bad press comes out about the factory it is on Deans shoes, not necessarily the Nike brand.  After the presentations we had Pizza and KFC and chatted with some of the people at Deans who run the factory.  It was funny because some of my friends that had been to China before had told me how different places like KFC and Dominoes were in comparison to America.  We enjoyed all the food that was given to us and many classmates actually liked the pizza more than in America.  We were able to ask questions about Nike as well as the factory itself.  Dean's shoe factory had a little giveaway of prizes for individuals who answered their questions correctly.  Some of these prizes consisted of Nike bags, backpacks and soccer balls! One of the most interesting aspects of the making of these shoes I found was that up to 400 employees physically are a part of the making of one shoe.  There are so many processes and little aspects on the assembly line that consumers do not even think about.  A typical worker is working all day shifts and is doing the same process over and over again.  In my opinion, a factory like this would simply not be possible in the U.S. and outsourcing to China is necessary in some aspects.
When we were done with lunch we started the tour of the factory and got to see all aspects of the creation of Nike shoes.  It was very crazy to see how hardworking and skilled the assembly workers are.  They are able to work multiple machines and stitch the shoes with such consistency.  The actual manufacturing of the shoes is such a cool process, especially when we got to see the Nike ID section of the factory.  Nike ID is where customers can customize a shoe to look however they want it to in terms of color, sole, shoelaces and anything else you can think of.  This Nike ID aspect of the factory was very different from the rest of the factory.  It requires employees to scan the tag on the shoe throughout every process of assembly to ensure that the right shoe and the right customization is going into the shoe.  If not, customers will be unhappy and return items that they customize.  I remember when I was younger Nike had just came out with ID and many of my friends as well as myself loved it.  The process however, would take 2-4 weeks to be delivered.  It is so cool to see how much faster and more efficient Nike has gotten with Nike ID. Managers at these factories are expected to propose 2 new ideas per week that would increase speed on the assembly line.  This really shows how much effort these managers have to put in to shorten the process of manufacturing and shipping so that the customer receives the product as soon as possible.  The manager of the Nike ID factory was currently working on getting an order processed and shipped to the customer from 5 to 3 days.  This trust in managers also shows how much the factory must rely on and hire the best managers possible to get the job done.  With so many employees working in the factory at Dean's it is very critical to take input from all of these assembly workers to see how the delivery time can be improved.  I feel like as a class we learned so much about the manufacturing aspect of Nike as well as got a better insight into what factory life is for the employees on the assembly line.  It is very smart for Nike not to have its own factories in terms of how they are viewed by the public so we were also able to see how important outsourcing is in a multitude of industries.
As a class we loved the city of Shenzhen and are excited to move onto the next city! Our next stop is Xian where we will explore the city and gain more insight on businesses in China.  We have a flight bright and early and are almost halfway done with our adventure in China! Keep following along with the blog and see where the rest of our trip takes us.
(Lobby of Dean's Shoe Factory)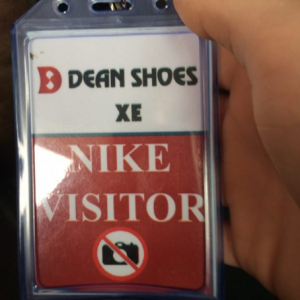 (The factory required us to lock away our phones and no photos were permitted)