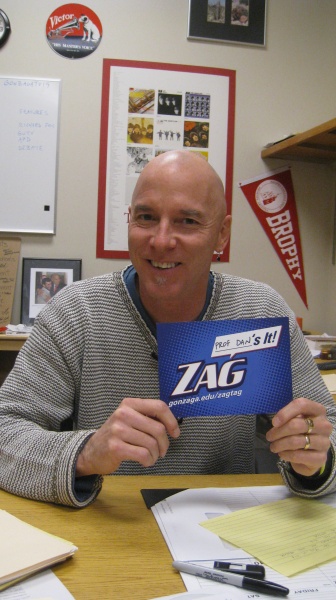 Dan Garrity exudes true Zag spirit, as he loves everything about Gonzaga University. "Being a part of this wonderful institution has given me a clearer sense of how I can help change the world with my God-given gifts," Dan explains. And that is what Dan has been doing for the past 10 years – teaching, growing and forming Zags. As an alum, Director of Broadcast Studies and Senior Lecturer of the University, Dan not only gets to observe students transform throughout their time at Gonzaga, but he plays a huge part in the shaping that takes place.
At Gonzaga, when it comes to students, professors like Garrity are generous not only with gifts, but with their time. "No matter if it is nights, weekends or holidays, when you see a student with potential, you don't see the clock, you just try and do everything you can to help that kid out."
That's why Dan Garrity gives back to Gonzaga, and now Dan tags you!
Zag, you're it!
Want to know what all this ZagTag is about? Make sure to check out gonzaga.edu/zagtag for more information on how to pass it on to pay it forward.