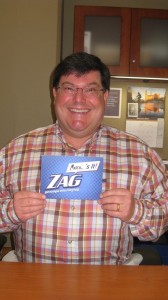 Mark Beattie radiates Zag pride. He earned his Masters in Business Administration ('03) and Doctorate in Leadership Studies ('09) from GU after getting an undergraduate degree in Hospitality Business Management. Prior to academics, Mark worked in the hospitality industry for 30 years, spanning both the commercial and non-commercial segments. He has lectured at various institutions including Washington State University's College of Business, as well as Gonzaga University's Jepson School of Business Administration and the School of Professional Studies.
Mark Beattie is now the Director of Distributive Learning in the School of Professional Studies at Gonzaga University. Mark loves everything about the University, from the approach of the professors and openness of the Jesuit education to the alumni connections and events that take place after graduation.
Locally residing in Liberty Lake with his wife, Chan, and son, John, Mark is very involved in the community. Mark has done development work for a Spokane, Wash. non-profit group and conducts workshops for the Small Business Development Center. He has recently spent a semester as a visiting lecturer at University of Dar es Salaam, Tanzania.
Now, Mark gets to see the Gonzaga connection come full circle as he takes pride in watching his son go through the student transformation as a current junior at Gonzaga. Mark explains, "Alumni, student, parent, community member… that's enough for me to want to give back!"
That's why Mark Beattie gives to Gonzaga, and now Mark tags you!
Zag, you're it!
Give online to student scholarships today and be it for the next generation of Zags!