On Friday, the Senior Engineers were able to show off their year-long work of blood, sweat and tears for their Senior Design class. Every year for the class, the seniors are assigned to groups that work with local companies in Spokane to create a product that solves a problem.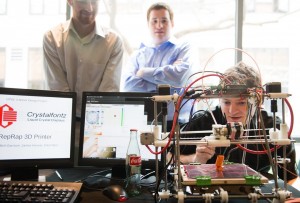 Students like James Hoover, Elliot Weil and David Bell-Garrison have really taken to their projects. Working with Crystal Fontz, a Spokane Valley company that provides high quality displays and accessories, these three seniors built a software for demoing the company's 3D printer prototype.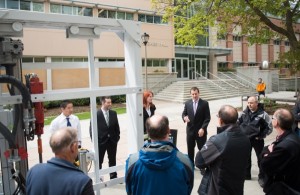 Justin Chin, Daniel MCDonagh, Brian Morrisset and Beth Thompson also relished in their completion of their project. "It's been a lot of work and time, but it's nice to have this to show for where we've been spending our time this whole last year," says Justin. This team of four developed a process and machine for ACME Concrete Paving, Inc. that will help the company save time, money, material and resources in removing concrete in freeways. "It's great to have been able to get to use everything we've been learning in our classes and put it to use in a professional setting," explains Beth. "We're almost like an engineering consulting group," Brian adds.
Getting set to graduate this Mother's Day, these senior engineers are feeling more confident in going to the workforce with the experience they have taken away this past year. From the hands-on training to problem solving to consulting and networking, these Zags are prepared for what's to come next in their future.
Make a gift today to the Engineering Excellence Fund and ensure the continuance of educational excellence for future Gonzaga engineers.