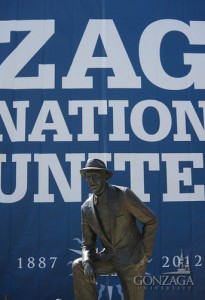 Commencement ceremonies marked the start of Gonzaga University's 125th Anniversary year. Themed around 'Tradition and Transformation,' the Gonzaga community is invited to engage in a host of special celebrations that highlight the great traditions of the past, yet look forward to the future. In the month of September, Gonzaga's 125th academic year begins and to commemorate this milestone, festivities are planned on campus throughout the week of September 12-20, including Mass of the Holy Spirit, Pilgrimage and a recognition of the Historic First Day of Classes. Some other noteworthy events occurring throughout the year include:
Zagapalooza All-Class Reunion and Fall Family Weekend
Coming soon October 19-21, this one-of-a-kind weekend will be chock-full with activities, ranging from the Zagapalooza Fun Run to Kraziness in the Kennel. This celebration is open to all alumni, their families and Gonzaga seniors and their parents. For more information, including a full schedule of events, visit the Gonzaga Alumni Association's Zagapalooza website.
125 Service Projects
As an integral part of Gonzaga's mission, GU students, alumni, faculty and staff partake in various service projects around the globe every year. In honor of the University's 125th Anniversary, Gonzaga will feature 125 service projects as a way to recognize our Zag commitment to service.
Gonzaga kicked off the list of service projects with a high-energy Bloomsday Bulldog Water Station, which featured 200 Gonzaga volunteers, including President McCulloh, cheering on the thousands of runners. More Zag volunteers can be spotted at Hoopfest at the end of June, rooting on the 3-on-3 basketball tournament games. And, this October will mark the 4th Annual National Alumni Service Project – join the Zags as we travel to the Big Easy in New Orleans for a one-week rebuilding effort to help bring a city that has suffered so much back to life. Check out the growing list of service projects and see how you can get involved.
National Gonzaga Day
This event will give all of Zag Nation a chance to unite this winter. More than 30 alumni chapters across the nation will host alumni, parents, students and friends to cheer on the Zags for a nationally televised men's basketball game. During the game, President McCulloh will deliver a special announcement about Gonzaga's future and a video featuring Zags everywhere will be shown.
The date for this event will be announced in September following the release of the 2012-13 men's basketball schedule.
For more news and events relating to Gonzaga's 125th Anniversary, visit gonzaga.edu/125.