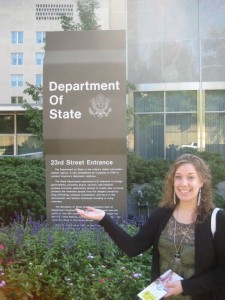 Emily Wakefield ('13) on a tour of the Department of State with her American Politics class while studying in Washington, D.C. as part of the Washington Semester Program.
Jefferson famously wrote, "If a nation expects to be ignorant and free, in a state of civilization, it expects what never was and never will be." Understanding that education is the key to freedom, Greg Huckabee ('72) and Dr. Blaine Garvin, a professor in Gonzaga's Political Science Department, along with other alumni and friends of Gonzaga, established the Thomas Jefferson Scholarship in 2008.
Motivated by an indebtedness to the inspiration and education that transformed them into "doers for others," Huckabee and Garvin were compelled to initiate this special fund. "The requirements of this scholarship – to participate in civic affairs as well as to study hard – fit ideally with our department's learning objectives," says Garvin. "While the student learns while doing, he or she gives back while enjoying an unforgettable experience in the field of political science."
Each year a committee from the Political Science Department designates a new Jefferson Scholar from the freshman class. The committee takes into consideration students that have shown interest in participating in public affairs to advance the common good. Once awarded, the student will receive a two-year scholarship, renewable by application for a third year. Emily Wakefield ('13) was the first recipient in 2010 and is completing her third year.
Emily is majoring in political science and history with a minor in international relations. A Spokane native, Emily grew up loving the school of which her mom always spoke highly. Not only is this soon-to-be senior the first of her family to attend this Jesuit institution, but the first to attend college. Although highly involved in the Gonzaga and Spokane community, Emily had the opportunity as a junior to expand her service cross-country to Washington, D.C., where she attended American University for a semester in the American Politics program. Balancing classes with extra-curricular forums and interviews, Emily was able to get involved in serious topics such as missing and exploited children.
Emily is thankful for the scholarships and grants she has received to not only be able to attend Gonzaga, but to experience civic service. "There are many people in my situation, paying for their own schooling," says Emily, "what's different is that GU gives us the opportunity to not only come here, but provides us opportunities to do something fantastic."
Reflecting on the process of beginning the scholarship, Huckabee explains, "A Jesuit teacher of mine once said, 'Nothing is ever truly yours until you give it away.' At the time, I was clueless what he meant. It has only been through the passage of time that I came to understand what he was trying to teach me. Emily confirmed Blaine and I had a good idea. Her story overwhelmed me; from her research work for Dr. Brunel to her internship in Washington, D.C. this past term, to her upcoming summer experience made possible by her D.C. internship – all combined to demonstrate why it was important to establish this particular type of scholarship – an experiential service-learning scholarship."
"It is a source of pride and contentment that good work is being done," says Garvin, while Huckabee reiterates, "we love the gift that keeps on giving!" And this scholarship does just that. This scholarship has now been awarded to three students since 2010: Emily Wakefield ('13), Henry Piaskowski ('14) and Peter Sorensen ('15).
Anyone who desires to do so may make contributions to the Thomas Jefferson Scholarship in support of experiential- and service-learning.