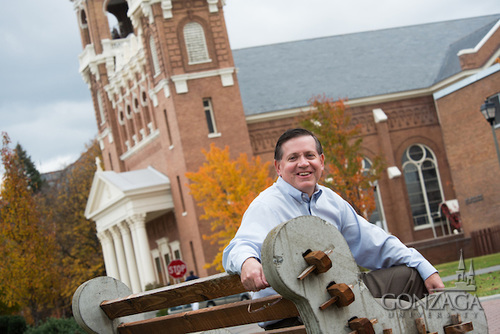 Whenever he gives a lecture or publishes an essay, Doug Kries does so with one thing in mind. "I am always asking myself, 'Well, is this something that Father Coughlin would be proud of? Did I do a good enough job?' "
Kries asks because he is the holder of the Bernard J. Coughlin, S.J., Chair in Christian Philosophy and feels inspired to comport himself in a way that honors Fr. Coughlin. "I admire and respect Fr. Coughlin's work," he said.
Kries has been teaching in the Philosophy Department at Gonzaga University since 1989. He has held the Coughlin Chair for the last 12 years. This particular chair was established when Fr. Coughlin, who spent 22 years as Gonzaga's president, retired in 1996. Friends and donors to the University, seeking to honor him for his service, created an endowed chair.
Gonzaga's endowment is a collection of individual funds, each with its own donor-directed purpose. The Coughlin Chair, for example, ensures there is a scholar trained in and committed to teaching the tradition of Christian philosophy.
Gonzaga's Investment Committee of the Board of Trustees, supported by University Regents, staff and a consulting firm, actively manage endowment investments. The principal remains intact while the interest earned by the endowment funds the designated program. A portion of the earnings from the Coughlin Chair pays for Kries' salary. That lightens the fiscal load placed on the University since salaries generally account for the largest portion of the operating budget.
Endowed chairs, of which Gonzaga boasts five, can do more than simply pay for a professor's salary. At other universities, depending on the size of the endowment, some endowed positions can include institutes or learning centers, fellowships, scholarships and visiting lectureships.
"I have tried very hard to raise the visibility of the chair," Kries said, "… to give it some cachet, make it more famous."
Through the Coughlin Chair, Kries' objective is to advance the teaching of Christian philosophy at Gonzaga. He focuses primarily on the perspectives of Plato, Aristotle, Augustine and Thomas Aquinas. "The Coughlin Chair ensures there will be someone always teaching those kinds of things at Gonzaga University," he said.
Kries grew up in Kamiah, Idaho, a rural logging town on the Clearwater River. Fewer than 1,300 people live in Kamiah today and the nearest McDonald's, at least when Kries was a child, was nearly 90 minutes away on a winding, two-lane highway.
After graduating from Kamiah High, Kries was ready for big-city life. He headed to the Puget Sound region, where he attended Seattle University and earned degrees in theology and philosophy.
"I was hooked early on philosophical and theological inquiry," he said. "For me, I had questions and the way you pursued those questions was with advanced studies."
That meant trekking across the country to a city even bigger than Seattle. Kries wound up in Boston, where he earned his doctorate from Boston College in 1988. Although he was always intrigued by his chosen field, he was not always interested in becoming a professor.
"Some people start out saying, 'I want to be a teacher,' and then they do the extra intellectual work so they can be a teacher," he said. "I'm afraid I was the other way around. I was interested in the disciplines, the questions, the studies. Then I got interested in sharing this stuff with other people through the medium of teaching."
Following short teaching stints at Boston College and St. Michael's College in Vermont, respectively, Kries came to Gonzaga. It was a return, of sorts, to his roots. He was closer to his family in Kamiah and back at a Jesuit school after conducting his undergraduate and post-graduate work at Jesuit institutions.
Not only has the Society of Jesus played a central role in Kries' educational and professional worlds, it has influenced his personal life as well. Kries and his wife were married on June 21, which happens to be the Feast of St. Aloysius Gonzaga. "We have been way too involved with the Jesuits, it seems," he joked.
Kries has also been busy professionally. His scholarly work this past year included an article in The Review of Politics titled, "Tocqueville's Unfinished Manuscript on Ireland."
Also, Kries recently teamed with a number of professors in the Philosophy Department to create a course called Faith and Reason. He is now in the process of converting that course into a textbook so other universities and colleges can provide it to their students.
"It's a nice story of how collaborative work at Gonzaga will be able to be shared with people elsewhere," he said.
Kries has also published a few essays on Robert Bellarmine, one of the more important figures of the Counter-Reformation. Famous for his discussions on the distinction between temporal and spiritual authority, Bellarmine was also a mentor to St. Aloysius Gonzaga. Kries has applied for sabbatical and, if his request is granted, will use the time to compose a book on Bellarmine.
"It seems like Gonzaga University is the place the guy ought to be studied and written about," he said.
Surely, Fr. Coughlin, and all those who helped create the endowed chair, would agree.