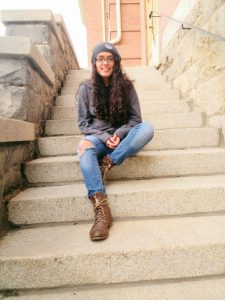 Choosing to attend Gonzaga didn't happen just by chance for sponsored Zag April Lopez ('20), who came to GU from Bridgeport, Washington. Despite a coin flip (literally!) to determine her college choice, she knew her heart belonged to Gonzaga. With a major in business administration, marketing concentration and a minor in Spanish and political science, Lopez knew that she would be able to reach the high goals she set for herself at Gonzaga University.
"One of my biggest fears growing up in a poor community and a not-so-better-off family, was that I wasn't going to have the chance to reach new heights and tap into the potential I believed I had," Lopez said.
An education from such a prestigious university like Gonzaga seemed out of reach for Lopez because of her family's past financial situation. However, upon learning about the opportunity presented to her thanks to a Gonzaga scholarship, she suddenly had a chance to pursue her goals of broadening her knowledge of business and serving its purpose after attaining her degree.
With her sights set on internships and service projects, Lopez is flying high above any and all expectations.
"I will utilize what I receive from Gonzaga in my everyday life," she said. "I will put effort into living out the life that Gonzaga encourages its students to pursue."