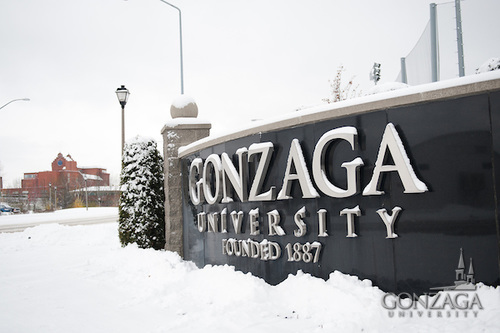 Welcome to December's MBA & MAcc newsletter!
Please read through the newsletter carefully to make sure you get all of the information regarding upcoming events and important announcements.
Important Dates:
December 1 through December 15
Evaluations open for semester-long and 5-week courses
Wednesday, January 7
New Student Orientation
Monday, January 12
Monday-only spring courses begin
Tuesday, January 13
Spring semester begins
Wednesday, January 14
Last day to add or late register
Friday, January 16
Last day to drop (and receive 100% tuition adjustment)
Gonzaga Events:
Monday, December 8 | 7:30 pm | Fox Theater
Gonzaga Symphony Orchestra featuring Sung-Won Yang, cello soloist
FREE tickets for GU students! For more information, CLICK HERE
Friday, December 12 | 7:30 pm -or-
Saturday, December 13 | 2pm | St. Aloysius Church
Candlelight Christmas Concerts 2014: "All the World in Wonder"
For more information and tickets: https://commerce.cashnet.com/GUCHOIR
Thursday, February 5 | 7:30pm | tba
Men's Basketball Game Watch
More information coming soon!
Spokane Business Events:
Thursday, December 11 | 5:30 pm | Chairs Public House
Spokane Society for Young Professionals
Help SSYP celebrate their 10th anniversary while networking with members of the Spokane business community. CLICK HERE for more information
Friday, December 12 | 7:00 – 9:00 am | The Lincoln Center
Good Morning Greater Spokane: Building a Culture of Health
Spokane Community Events:
December 2 – 14 | The Davenport Hotel and Riverpark Square
Christmas Tree Elegance SpokaneSymphonyAssoc.org
Dec 12 – 21 | until 7 pm daily | Manito Park
Holiday Lights at Gaiser Conservatory
Dec 31 | Downtown Spokane
First Night Spokane The biggest New Year's party this town has ever ever seen, along with one of the best fireworks shows of the year! Bring in the New Year with First Night Spokane!
REMINDERS
Course Evaluations:
Please remember to fill out course evaluations on Zagweb during the last two weeks of MBA & MAcc classes. Full semester and 5-week trailer course evaluations are NOW open! These evaluations provide important feedback to the program and faculty about the curriculum. If course evaluations are not available, be sure to inform your professor and/or Adriane Leithauser.
Have You Moved or Changed Email Accounts?
Please email us at hallinan@gonzaga.edu with your updated contact information (email address, address, employment information). Please note that all current students are expected to check their Zagmail accounts; however, we are able to update your preferred secondary email address.
Orientation – MBUS/MACC 600
All new students are required to enroll in and attend MBUS 600 or MAcc 600 (depending on their programs) prior to enrolling in their first semester of classes. Spring orientation will be held Wednesday, January 7, 2015 in Jepson 120 from 3:00 pm to 8:00 pm.
Dinner will be provided, and students will receive pertinent information regarding academic honesty, professional standards, career resources, and networking. This is also a great opportunity to meet other students, faculty, and staff in Gonzaga's MBA and MAcc programs.
If you arrive at 3:00, you will be able to take a short campus tour and obtain your GU student ID card, parking permit, and textbooks. The required portion will take place from 4:30 pm to 8:00 pm in Jepson 120 (Gonzaga undergraduates are not require to attend until 4:30 pm). If you have questions or concerns, please contact Patty Hallinan.
MBA Students:
International Issues Elective Requirement
Please remember that you are required to have 2 credits of elective coursework with an international focus. Here are the courses that count toward that requirement this fall:
MBUS 636 International Ethics 1 credit – Mon 5:30 – 8
MBUS 699 Hult Case Competition 1 credit – Tues 8 – 9
MBUS 699 Sustainable Global Development 1 credit – Wed 5:30-8