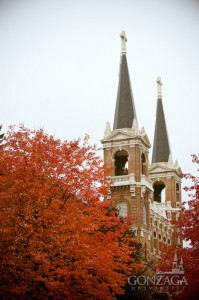 Welcome to November's MBA & MAcc newsletter. Included, you will find information about several upcoming events, as well as important administrative deadlines and updates.
Please be sure to read through the newsletter carefully to make sure you get all of the information regarding upcoming events and important announcements.
Important Deadlines:
Saturday, November 1
Last day to apply for May 2015 graduation without additional fees
-CLICK HERE- for more information
Tuesday, November 4
MBA & MAcc Spring 2015 registration opens
Tuesday, November 11
Tues, Wed, & Thur trailer courses begin
Monday, November 17
Monday trailer courses begin
November 26 – 28
Thanksgiving Holiday – No Classes
Monday, December 1
Graduate Assistant Application Due
International Scholarship Due
Forms can be picked up in the GSB office or accessed on our website -HERE-
Gonzaga Events:
Spokane Business Events:
Spokane Community Events:
Friday, November 14 | 6 pm | Spokane Convention Center
Epicurean Delight, benefiting the Blood Center Foundation and the Inland Northwest Blood Center
Nov 21 – Nov 23 | Spokane County Fair & Expo Center
Custer's Christmas Arts & Crafts Show
Thanksgiving (Thur, Nov 27) | 9am | Manito Park
Turkey Trot – No entry fee, food or cash donation for Second Harvest Food Bank encouraged
REMINDERS
Course Evaluations:
Please remember to fill out course evaluations on Zagweb during the last two weeks of MBA & MAcc classes. 10-week course evaluations are NOW open! These evaluations provide important feedback to the program and faculty about the curriculum. If course evaluations are not available, be sure to inform your professor and/or Adriane Leithauser.
Have You Moved or Changed Email Accounts?
Please email us at hallinan@gonzaga.edu with your updated contact information (email address, address, employment information). Please note that all current students are expected to check their Zagmail accounts; however, we are able to update your preferred secondary email address.
Orientation – MBUS/MACC 600
All new students are required to enroll in and attend MBUS 600 or MAcc 600 (depending on their programs) prior to enrolling in their first semester of classes. Spring orientation will be held Wednesday, January 7, 2015 in Jepson 120 from 2:30 p.m. to 8:00 p.m.
Dinner will be provided, and students will receive pertinent information regarding academic honesty, professional standards, career resources, and networking. This is also a great opportunity to meet other students, faculty, and staff in Gonzaga's MBA and MAcc programs.
If you arrive at 2:30, you will be able to take a short campus tour and obtain your GU student ID card, parking permit, and textbooks. The required portion will take place from 4:00 pm to 8:00 pm in Jepson 120 (Gonzaga undergraduates are not require to attend until 4:00 pm). If you have questions or concerns, please contact Patty Hallinan.
MBA Students:
International Issues Elective Requirement
Please remember that you are required to have 2 credits of elective coursework with an international focus. Here are the courses that count toward that requirement this fall:
MBUS 636 International Ethics 1-credit – Mon 5:30 – 8
MBUS 699 Sustainable Global Development 1 credit – Wed 5:30-8