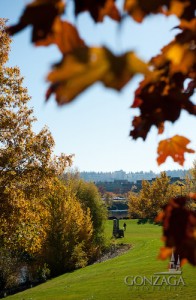 Welcome to October's MBA & MAcc newsletter. Included, you will find information about several upcoming events, as well as important administrative deadlines and updates.
Please be sure to read through the newsletter carefully to make sure you get all of the information regarding upcoming events and important announcements.
Upcoming GU Events and Deadlines:
Tuesday, October 7 | 7:00pm | Wolff Auditorium
Social Entrepreneurship: What is it; what does it mean for Gonzaga?
Dr. Chris Stevens (Part of the Opus Prize Nights series)
Wednesday, October 15 | 5:30-7pm | Jepson 211
MAcc Information Meeting
Friday, October 17 | 12-1pm | Jepson 109
MAcc Information Meeting for GU 3/2 students
Friday, October 17 | 4:30-6:30pm | Saranac Public House
MBA Fall Networking Event
Monday, October 20 | Founder's Day | No Class
University is closed
Friday, October 24 | 3-5pm| Wolff Auditorium
Careers in Finance: A day in the life
Community & Business Events:
All Graduate Students:
Course Evaluations
Please remember to fill out course evaluations on Zagweb during the last two weeks of MBA & MAcc classes. Course evaluations provide important feedback to the program and faculty about the curriculum. If course evaluations are not available, be sure to inform your professor and/or Adriane Leithauser.
Have You Moved or Changed Email Accounts?
Please email us at hallinan@gonzaga.edu with your updated contact information (email address, address, employment information). Please note that all current students are expected to check their Zagmail accounts; however, we are able to update your preferred secondary email address.
500 Level MBA & MAcc Courses: If your advisor has evaluated your prerequisites and determined that you are required to take one or more 500 level prerequisites, you should be able to register for them on your own in most cases.  You should also be able to register for the 600 level course they are a pre-requisite to in the following term.
For example, if you are required to take MBUS 501 Stats Review in Summer 1, you can register for MBUS 613 Quant & Stats Analysis in Summer 2 without getting an error.
MBA Students:
International Issues Elective Requirement
Please remember that you are required to have 2 credits of elective coursework with an international focus to graduate. Here are the courses that count toward that requirement this fall:
MBUS 652 International Management 2 credits – Tues/Thur 9:25-10:40 – 9/1-11/7
MBUS 699 Sustainable Global Development 1 credit – Tues 5:30-8 – 11/10-12/19
MBUS 699 Defending a Global Brand 1 credit – Mon 5:30-8 – 11/10-12/19