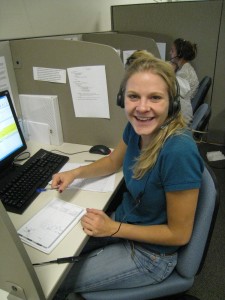 Last week the Career Center/GAMP office hosted our Career Week, featuring the Spokane Trek.  The week was filled with different opportunities for students to learn about internship and full-time opportunities post Gonzaga.  We wanted to share with Gonzaga Parents & Families the highlights for the week, and some upcoming events to be aware of.
A capstone of the week was our Business & Liberal Arts Fair where we had over 40 employers recruiting Gonzaga students for internships and full-time opportunities. Students in all fields, industries and class standing were invited to participate in the fair.  Students arrived with polished resumes, consistently impressing employer partners.  If your student didn't get a chance to join us at the fair, it's okay!  The Career Center has lists of previous participants for Career Fairs.
One popular annual event was the Speed Mock interviews, when students get the chance to polish their interviewing skills with real employers.  The round robin style allows for students to get plenty of practice while receiving feedback.  Over twenty employers and alumni joined us for that event on November 8th.
This year, the Career Center/GAMP added a new component to the week by hosting the first annual Spokane Trek highlighting regional companies in the Inland Northwest.  The companies which joined us as excursion hosts were: Desautel Hege, Next IT and Inland Northwest Health Services.  The excursions were open to all majors and years, with a particular focus on students with liberal arts backgrounds.  By seeing corporate offices first hand, students can see work environments while learning about various career opportunities.
If your student missed participating in our Career Week, never fear!  Encourage them to join us at one of the following events:
Tues. Nov 30th 7:30-8:30 pm: Building Your Network (This workshop is aimed at teaching students to feel empowered to get out there and start networking.)
Thurs. Dec. 2nd 12-1 pm:  Resumania (Students provide resumes, while we provide the pizza!)
Tues. Dec. 7th 12-1 pm: Drop-In Hour (No appointment needed for students to swing by and meet with a career center staff member for coaching)
Thurs. Dec. 9th 12-1 pm: Interview Prep Workshop (If your student has never done an interview and is nervous to start…this will give them the confidence for any interview.)
All workshops and events are held in the Career Center, 2nd Floor of the Crosby Student building.
View all of our upcoming events, workshops, seminars and on-campus interviewing by going to our calendar here.
PS—The Portland & Seattle Treks are now open for registration!  The events will be hosted January 4th and January 6-7 respectfully.  To have your student register, have them go to www.zagtrax.net.  Space is limited on certain corporate excursions, don't delay!