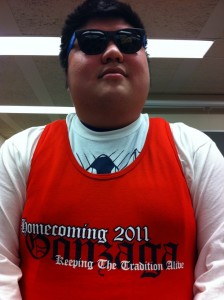 Dear Families,
Homecoming week is a longstanding tradition at Gonzaga that celebrates our campus community and its traditions and it will be here very soon! This year's theme is "Keeping the Tradition Alive." We are going back to our roots and getting in touch with our inner Zags! So what does this mean for you? That it's time to buy your student the Homecoming package! Don't miss this opportunity to surprise your student and help them embrace life at GU, and keep the tradition alive. This year we have completely revamped the packages to provide items students want for a lower cost. This is an exclusive opportunity to surprise your child and give them everything they need to engage in the Gonzaga experience, so keep reading!
The Homecoming packages this year include a long sleeve Homecoming T-shirt, Kennel Club Tank Top, a Zag Fanny Pack, and Spirit Sunglasses. This year there is also an option to send a personalized message to your student in the package. The package cost is $15.00 and the students will be able to pick them up in Crosby during Homecoming week February 11-Febrauary 19. To purchase, follow this link and follow instructions,https://commerce.cashnet.com/GSBA.  Once your order has been placed your student will get an email telling them all the details of how to get their package and start celebrating Gonzaga!
If you are interested in sending your student a personalized message, please email it to gsba-community@zagmail.gonzaga.edu and put the students name in the subject line.
If you have any questions or comments, please email gsba-community@zagmail.gonzaga.edu
GO ZAGS!
Thank You,
Gonzaga Activities Board
—
Mallory Wilson
GAB: Community Events Chair
gsba-community@zagmail.gonzaga.edu