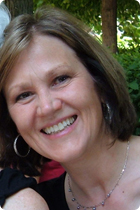 Hello from the Internship Office of Gonzaga!
I have always been a fan of Gonzaga….and now, in my very first year working on the campus, I am learning what it really means to be a ZAG from the inside view!
Being an energetic supporter of great athletic events….(this may include war paint!)
Endorsing dynamic organizations on campus devoted to service in the community…
Engaging in additional lectures or presentations of academic thought or the arts….
Knowing the latest announcement on  "The Wall…."
Yes indeed, all of these are part of the profile.  But….. there is even more!                                                                    The truth is, the very best part of the Gonzaga identity is the students themselves!                               Conversations with students in my office reveal growing people of depth and talent. Your sons and daughters are becoming rich thinkers with a social conscience, intentional about making a difference in their world. To be sure, this is a productive part of the Gonzaga mission.
And it is also where you come in…..again! More and more students are looking for opportunities to test their knowledge and apply what they are learning in the "real world." In fact, one of the most common questions we hear is, "How do I get an internship?" Happily, it's a question we can answer!  We are learning that Internships are happening across the country, in nearly every kind of workplace, often as a paid position, sometimes for credit, and almost always as a means for relevant discovery and practice. At Gonzaga, we believe they can be one of the best expressions of the purposeful learning already taking place within the classroom. That is the reason the Gonzaga Internship Program is growing.
So, how can you as a parent, make a difference?
You have the great advantage of knowing your children….for a long time! You know their temperament, skills, innate talent, and maybe even unspoken doubts or ambitions. You have been at the front of their lives. You can be their very best advocate.
How?
Be in conversation with your son or daughter. Inquire about what they are learning. Discern what direction they might trust from you.  As they return home for the summer, help each into a season of "possibility-thinking." More than anything, the first step of self reflection and goal setting assist a student in locating and experiencing an internship of merit.
Be a connector. Aid your son or daughter in the art of networking. Who might you already know that might assist with a conversation or insight into a field of their interest?
Be an advocate of Gonzaga students right where you are! Yes, even in your own home town, your business or community, you have something to offer. You may know of an existing internship program or an associate interested in developing one. Perhaps that is YOU! Contact the Gonzaga Career Center and we will go to work at cultivating one more great opportunity for our students. You can be a part of that, too.
Be sure to check out our resource career guide online for parents, simply going to: http://www.gonzaga.edu/Student-Life/Support-for-Students/Career-Center/Parents/default.asp