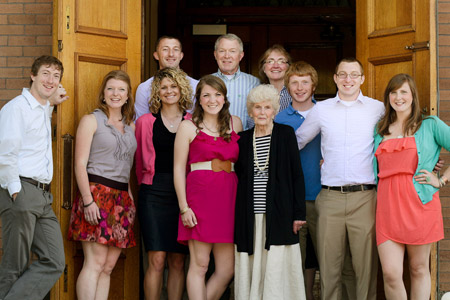 Mary and Bill Chambers
by: Clare Chambers, class of 2012
Although my parents are not Gonzaga alumni, they are serious converts to the Zagnation. Many people have been fooled into thinking that they went to Gonzaga, met there, lived their college days on East Boone Avenue, (and at Jack and Dan's of course) and got married after he graduated with a Civil Engineering degree and she as a Registered Nurse. Maybe it is because they fly a white Gonzaga flag outside of our home; maybe it is because, come May, they will have six children who have graduated from this fine university and one more who hopes with all his might that he will be admitted in two years time; maybe it is because, although they do not have cable at their house, they always manage to clear their schedules and find a place to watch a Gonzaga basketball game; maybe it is because they have made the trip across the state of Washington from Bellingham to Spokane at least three times a year since 1998 when my oldest brother Dominic started college here. My parents, Mary and Bill Chambers, have allowed Gonzaga's campus to become a second home for six of their precious children and the community here to become a surrogate family ever since the first time we came to Spokane on that August day fourteen years ago. They have seen five of us come and go to Gonzaga-in-Florence, had two Gonzaga athletes, have witnessed the before and after of the remodel of the university chapel, financed summer classes for those of us who may not have been so on top of our scheduling during the academic year, sat through so many graduation ceremonies in the Spokane Arena, cheered their voices away at the annual Battle in Seattles, thrown barbeques every Fall Family Weekend, and purchased countless Gonzaga sweatshirts for themselves and for us.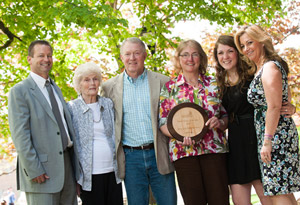 My parents, although they have only been adopted into the Gonzaga world through us kids, embody my favorite aspects of this university. My dad's most prized t-shirt is a simple, navy blue one with the spires of St. Al's embroidered on it and the words, "Gonzaga, A Jesuit Tradition." I am fairly certain the shirt is older than my high school aged younger brother, but he wears it proudly because he believes so strongly in the value of a Jesuit education. My mom and dad have encouraged my siblings and me to take advantage of all that this Jesuit, humanistic institution has to offer, from the spiritual to the academic to the social justice and community service realms. My dad has made the silent retreat with the Gonzaga University Ministry and my parents jump at any chance they get to attend Mass in the chapel or the opportunity to sit in on any class that is going on when they are in town. My parents have financially and emotionally supported Mission:Possible trips, charities chosen by the Setons and Knights of Gonzaga, GUSR's Way of the Heart Retreat, academic scholarships, intellectual and cultural growth through study abroad, and so many more programs and opportunities that my siblings and I have had the chance to partake in. They have truly been supportive and involved in so many of the extra-curricular activities that make Gonzaga so special and unique.
Although Gonzaga is incredible for its academic and sports programs, as well as the out-of-this-world statistics in community service hours and opportunities, in addition to spiritual development of students and commitment to "educating the people the world needs most" by educating the whole person- mind, body and spirit, what really sets Gonzaga apart is the intense emphasis on relationships and the community. The same can be said for my parents. They have a long list of activities and programs in which they are involved and a host of honors they have received because of their involvements and because of the standard of excellence that they hold themselves to, but these things matter little to them when compared to the importance of creating bonds and strong relationships. My parents love the Gonzaga community. In fact, I guarantee that you could get either one of the to tear up if you start talking about the three biggest weekends on campus- move in, fall family and graduation. My dad often remarks that that is what he imagines heaven to be like- everyone smiling, helping each other and hugging one another simply because you know the same person that you both love and respect so much. My parents will open up their house to anyone who has a Gonzaga connection, no questions asked. One time during a summer, I had a friend who was riding his bike from Seattle to Vancouver and since Bellingham is about halfway between the two, I offered that he stay there at our house for the night. In the craziness of summer schedules, it turned out that none of the Chambers were going to be in town when he came through. Of course, my parents said, we'll just give him the garage code and he and his friends can stay in our house while we are gone! They did the same thing for a group of my girlfriends who used our house as home base for a the weekend when they visited the Vancouver Winter Olympics, even though my parents were out of town. Without even knowing it, they have been a source of strength for many of our friends. One of our friends swears that a conversation with my parents gave her the courage to make the decision to move to Africa for a year, as well as convince her own parents that it was a good idea. And my mom just received a spring break postcard in the mail from a different friend that was addressed to Mom and Dad Chambers. I've known that they are important to my friends, but my mom was so flattered that he would refer to them like that.
Here is one instance that reflects why my parents are worthy of this award: Every year, my mom and dad have insisted that anyone who lives far away come to our house for Easter because they can hardly bear the thought that anyone would spend such a joyous weekend without a family. So, every year since there have been Chambers enrolled in Gonzaga, there have been friends home for Easter. Last year, I was studying in Italy and was not home for the holiday. Sure enough, though, ten of my friends still made the trek to spend Easter with my family. My parents treated them like their own children- fed them until they could not move, employed their help in washing the dishes, made sure the Easter bunny came for them, kissed them on the forehead sending them off to bed, and put their pictures up on our refrigerator, (I'm not sure any of them even noticed that I was not there after a while!) This was above and beyond what my friends expected, but was completely normal for my parents. I have been informed that my mom has sent out an invitation for this year's Easter and made it clear that I am to extend it to anyone else who may not be able to travel to their own homes, because there is always plenty of room at her house. My parents have come to love our friends as their own, and vice versa. They are expanding the community that I love and value so much at Gonzaga beyond this campus and beyond the four years as a student. They are so loving and accepting of the characters my siblings and I have met and come to love and cherish in our time at Gonzaga.
My parents truly deserve an award for the kind of Gonzaga parents they have been, not only for their biological children but also for any and all of our friends that we have been so blessed to make here. They would never expect such an honor and would not think that anything they do is anything exceptional or out of the ordinary– it is just the kind of people they are. They do not know that I am nominating them for this award, and this is only a tiny way that I can try to express to them how important and influential they have been in my college career and in the lives of many more Gonzaga students. They are worthy of this award because they reflect the best parts of this university and have always encouraged us to make the most of our time here. They may not technically be Zags themselves, but I do believe that they appreciate the hit classic, Zombie Nation and bleed blue and red!