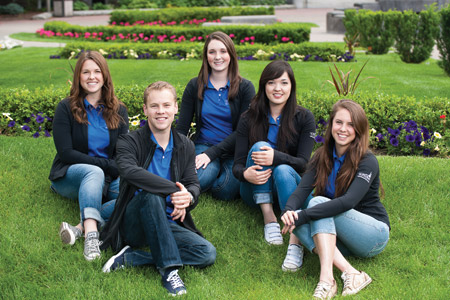 From left to right: Nancy Carl, Michael Valentino, Kayla Davidson, Shannon Hashiguchi, and Allyson Binversie
Allyson Binversie, Group Leader and Catering Coordinator – of Manitowoc, Wisconsin is a junior psychology major.  She has studied abroad with Gonzaga two summers to Zambia, Africa, as well as a semester in Florence, Italy.  On campus she has been involved with the Comprehensive Leadership Program, Service-Leadership Living and Learning communities, Reality Camp, an in-class note taker for DREAM, and a student supervisor in the University Relations Department for their Telefund program.  In her free time she enjoys taking yoga classes at the fitness center and skiing the mountains in the area. Allyson's favorite Gonzaga memory is taking Gonzaga with her globally as she studied abroad!
Kayla Davison, Public Relations Manager – of Clarkston, Washington is a junior public relations and sociology major. She enjoys traveling and got the chance to study abroad in Florence, Italy for a semester. Kayla enjoys being actively involved on campus. She is an intern at the Red Cross, an active member of Gonzaga Peers Listening and Understanding Students and she volunteers at the Boys & Girls Clubs. In her free time she enjoys hiking, yoga, volunteering, and reading young adult novels. Some of Kayla's favorite memories at Gonzaga were attending retreats; Freshman Retreat and SEARCH!
Shannon Hashiguchi, Academics & Special Populations Manager – of Beaverton, Oregon is a junior nursing major. While at Gonzaga she's had the opportunity to study abroad in Benin with the W.A.T.E.R program, be a part of bringing the Annual Diversity Monologues to Gonzaga, and participate in various campus clubs and organizations. In her free time she loves to read anything and everything, ride horses, run, and bake. Some of her favorite Gonzaga memories have been made hanging out in the COG with friends.
Nancy Carl, Coordinator – of Moraga, California is a junior political science major as well as a public relations minor. She has been actively involved in Gonzaga's Students Body Association (GSBA) since her freshmen year, and is a member of the STOP Trafficking club and the International Justice Mission club. Nancy's favorite memory at Gonzaga thus far, was studying abroad in Florence, Italy. In her free time, she enjoys photography, traveling, and watching endless amounts of "Friends" re-runs.
Michael Valentino, Activities Manager – of Thousand Oaks, California is a junior political science and history major. He has been involved in Campus Ministry, Zag Study Buddies, GSBA and Cheerleading.  He recently studied abroad in Florence, Italy with the Gonzaga-in- Florence program. Michael has worked on Governor, US Congress and US Senate political campaigns. He enjoys traveling, spending time with family and friends, volunteering and camping. Michael's favorite memories at Gonzaga were traveling to battle in Seattle, and the WCC and NCAA tournaments with Gonzaga Cheerleading.