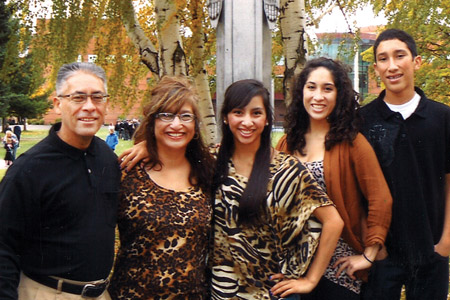 Our daughter Cheryl Anne Villareal was admitted to Gonzaga University in Fall 2010.  That year she was the only incoming freshmen from the state on New Mexico to attend GU.  Naturally being the first of our three children to attend college at a location 1300 miles away from home was both exciting and scary.   She had some exposure to what the experience at Gonzaga would be like by attending the Ignatious of Loyola Scholarship(ILS) competition.  This visit to the GU campus gave her a firsthand look at what the life of a ZAG would look like.  She came back home from that trip excited and convinced that Gonzaga was the right situation for her and any of the other universities she visited did not measure up to GU.
As a parent we were quite troubled that our oldest daughter could possibly be in a very unfamiliar environment and were concerned that the distance might create a very difficult adjustment for her.  Going through the university interview process we found the GU staff very willing to address many of the questions we had in trying to understand what it was that made such an impression on our daughter.  The staff was very professional in explaining the admission process but mostly patient, courteous and understanding of the dilemma that we as parents were going through.  We found this reaction to be reassuring and unique in the college selection process.  Slowly we as parents began to understand the philosophy and the mission of Gonzaga that sets this university apart from many others.  We could relate to the GU philosophy of "servant leadership" that Cheryl Anne became exposed to during her experience at ILS.  Also, the theme: "Ad Majorem Dei Gloriam" was something we could relate to and eventually saw for ourselves how real this philosophy is at GU versus a catchy slogan.  Attending the student orientation gave us the opportunity to see for ourselves the unique experience our daughter was in for.
All this being said, while we felt Cheryl Anne would handle the academic expectations at GU we were still concerned about her social comfort level.  Consequently, we offered to get involved in developing a local Gonzaga Alumni club in New Mexico that would bring together other students, alumni, families and friends of GU.  Through this effort we have met other ZAGS in our local area that bring a social and cultural familiarity on top of the GU experience. To this day we gather locally to celebrate the ZAG spirit in the form of summer send-offs and game watches.   We were eventually asked to participate in the Gonzaga Parent and Family Council that has enabled us to more fully appreciate why so many students talk about their GU experience with such fondness.
When asked, what does the Gonzaga family experience mean to me I think of many responses on many levels.  First, to be educated at one of the most prestigious universities in America with the intent to use this educated mind for the greater glory of  God in no less than incredible.  Our daughter is being formed in an environment that will allow for her own personal discovery while being mindful of the benefit of others helping to minimize the temptation to use her education solely for self-interest.   The academic standards, the quality friendships, the dedicated GU staff/faculty, the fine arts and of course the basketball games have helped to soften the "distance blow".   In a nutshell, Gonzaga University has been an extension of our own family that has provided a challenging and safe environment that will enable our daughter to develop in a way that God intended her to be.  For this we as parents will eternally be grateful.