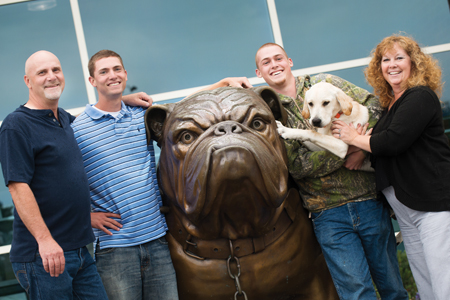 GU family is all encompassing.  It is the heart and soul of my personal and professional life.
It's hard to determine where it began. Rich and I raised our boys in a very close, family comes first, environment. Our children were educated in Catholic school from preschool (St. John Vianney) through high school (Gonzaga Prep). Our oldest son (with the guidance of a close friend at Gonzaga) decided to attend Whitworth University. He was accepted to Gonzaga, but would be given the opportunity to play baseball as a freshman at Whitworth (and get a great education). Our second son Jesse knew from the beginning that Gonzaga was the place for him, and he has just finished his sophomore year.
I have the unique (and awesome) opportunity of working at Gonzaga and being the parent of a Gonzaga student. I love my job.  Simple…..Where else can you be surrounded by happy, hardworking individuals with the same goal; educating other people's children. I work in University Ministry. My job is to make each student feel welcome and cared for. Done! This is the greatest job in the world! When I meet parents at Orientation, I always tell them that I know how hard it is to let go. I have done it twice. Yes, one is in school right here. But, it is still difficult to send your baby to college. The one thing I can count on is, knowing that everyone at Gonzaga is family and is here to help my child be the best he can be. He has support from professors, RA's, staff and the Jesuit community. We are a family that educates the mind and spirit. We are a family that helps each other through the good times and bad.
My heart is filled daily with gratitude for the community that my family and I are a part of. Gonzaga is and always will be a part of our family that cannot be replaced.
Cindy Perry
What GU family means to me….
Family involves relationship. All relationships evolve.  My Gonzaga family is always evolving. Living in a dorm for two years brought a part of a bigger family experience than I had ever had. It continues to evolve as I will now (as a junior) live off campus with people that have become a part of my Gonzaga family.
Professors that care about my path in college and beyond….are a part of the GU family.
RA's who check on me and have guided my first years' here…..are a part of the GU family.
Friends from high school and friends I met here at Gonzaga…..are a part of the GU family.
All of these people and many, many experiences have given me a family that will stay with me long after I leave the Gonzaga walls. It is a family that continues to support me and for that, GU will always have a special place in my whole being, long after I am gone from here.
Jesse Perry
Gonzaga class of 2014