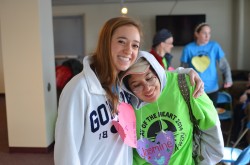 By: Chris Wheatley
As a Jesuit university, Gonzaga is committed to educating students as women and men for and with others. The Center for Community Action and Service Learning (CCASL) lives out this commitment by connecting thousands of Gonzaga students with opportunities to serve and work towards solutions addressing pressing social needs including educational inequality, homelessness, poverty and hunger, among others.
After 20 years, CCASL (pronounced "castle") is stronger than ever, making a significant impact on the Spokane community while transforming generations of students. In the past year alone, 3,028 Gonzaga students volunteered in one of CCASL's programs. Guided by CCASL staff and over 100 student leaders, these student volunteers contributed over 76,000 hours of service to the local and national community.
Mentoring At-Risk Youth
"I have to admit I was dreading what the middle school years would bring, but much to my surprise they've been the best years of [my granddaughter's] school life so far – and I do think a large part of that is thanks to [your] program." This testament, sent by the grandmother of a youth mentee, is one of the countless stories from children and their families about the impact of CCASL's mentoring programs in their lives. CCASL runs six mentoring programs matching Gonzaga students with elementary and middle school youth; activities include visits to campus, tutoring, athletics, art and more. The programs encourage at-risk youth to engage academically, persist through high school graduation and be ready for college or career. They also provide transformational experiences for Gonzaga students, who often feel they receive more from their mentee than they give. The mentoring programs have received dozens of awards throughout CCASL's 20 year history, most recently being named a 2014 Champion of Youth Award winner.
A Community of Joy, Friendship
If you were to walk into any session of GUSR, you would likely hear one thing: laughter; lots of laughter! Whether participating in Special Olympics Basketball or rehearsing for their semi-annual play production, the members of GUSR seem to always have something to smile about. GUSR (Gonzaga University Specialized Recreation), one of CCASL's many programs, forms a community of Gonzaga students and adults with developmental disabilities from the Spokane community. Together, they participate in sports, create two full-stage play productions, host an annual retreat and work on advocacy and awareness-raising for disability issues. Check out their video campaign to help "End the R Word."
Serve Across the Country
Whether doing construction in Jonestown, Mississippi, learning about immigration issues in San Diego, California or working with refugees in Denver, Colorado, students on CCASL's service immersions are deeply changed by their experiences and often form lasting friendships with their peers. CCASL's service immersion programs, Mission: Possible and Justice in January, send students and staff advisors to twelve locations across the country during winter and spring break to serve, learn about justice issues and form a community with other Gonzaga students. For more information on the student impact, take a look at the blog from the most recent Justice in January trip.
Getting Involved – for life
The programs above are only a fraction of the service opportunities available to students, both in and outside the classroom. With over 100 partnerships with non-profit agencies including Catholic Charities, the Hutton Settlement, and Habitat for Humanity, CCASL provides impactful service experiences for Gonzaga students. Through these experiences, our students are transformed, and many of them continue their engagement, serving with organizations such as the Jesuit Volunteer Corps, Cristo Rey Schools, and the Peace Corps, which named Gonzaga University #1 amongst schools with less than 5,000 undergraduate students for the second year in a row. To learn more, go to the CCASL website at www.gonzaga.edu/ccasl, visit and like the Facebook page at www.facebook.com/ccasl, e-mail serve@gonzaga.edu or call (509) 313-6824