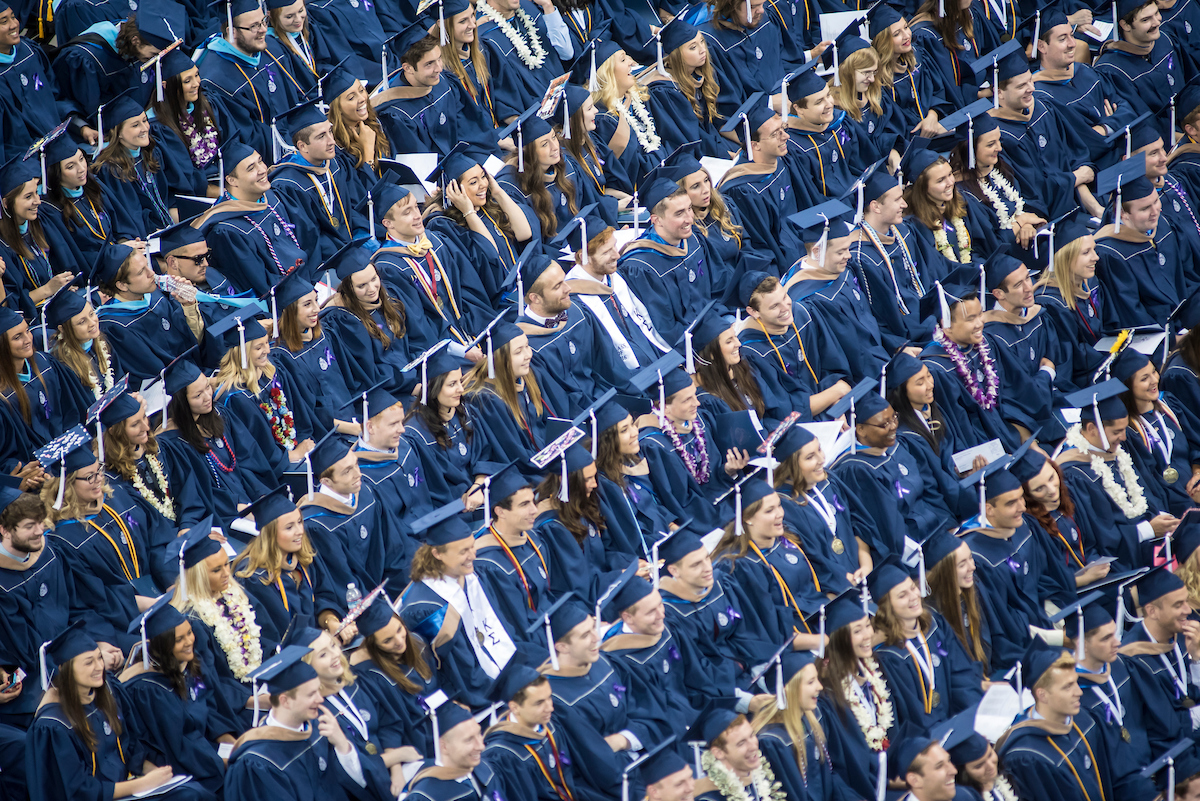 Written by: Krista Mather, Student Involvement and Leadership & Nicola Miller, Center for Cura Personalis
Senior year in college can be both exciting and terrifying.  It can include the highest highs and also some of the lowest lows our students will experience.  Above all, it is a significant time of transition for students as they prepare to leave the safety net of campus life and move into the dreaded "real world" that everyone has been telling them about over the past four years.  If you're wondering how to best support your senior during this important time, the Center for Cura Personalis and Student Involvement and Leadership have collaborated to give you the following tips:
Normalize not knowing. Many of our seniors at GU have post-college jobs, internships, service opportunities, etc. already lined up and ready to go.  But many of our seniors do not – and that's okay!  While beginning the job search early is always a good idea, many companies won't even look at resumes for folks who are months away from graduating.  It's very normal for many seniors to not know exactly what will come next for them and, often times, constant reminders of that insecurity can significantly affect their mental health and overall well-being.  Your student may come to you feeling upset or emotional about not knowing – hear them out, provide empathy and support but don't try to solve the issue for them.  Sometimes our students just need to be reminded that they have love and support both while they're in school and when they're beginning their career, and everything in between.
Take steps to prepare. Instead of asking your student what job opportunities they've found, encourage your student to prepare for that next step by polishing their resume and cover letter, conducting informational interviews with professionals in their field and networking and supplementing their "reference list." Gonzaga's Career & Professional Development staff and events can assist your student in all of these areas.  Finally, encourage your student to finish strong in their classes – some employers do look at GPAs.
Take care of yourself. With so much happening senior year, our students sometimes forget to take care of themselves.  Encourage your student to sign up for fitness classes, take time for their own self-care and eat healthy.  Help them set up healthy habits to continue after they graduate from GU.  Our online Wellness Toolkit is a great place to start: gonzaga.edu/wellbeing
Encourage reflection and celebrate success. University Ministry offers a variety of retreats and programs that allow for this reflection space – a chance to really look back and see how far students have come during their four years at Gonzaga. Student Publications allows parents to buy ads in the yearbook and in the Bulletin to congratulate and well wish their student.   There are also events put on by Z-Core (the Senior Events Committee) and Senior Class Representatives taking place all year that are designed to celebrate senior year and graduation.  All of these events can be found at the My Senior Year website: gonzaga.edu/mysenioryear
Be present. Help your student be present in their day-to-day lives and activities and not get too caught up in stressing about the future.  College is an amazing experience and we want our students to soak up as much of it as they can before graduation.  Take a trip with Gonzaga Outdoors.  Join one of over 140 clubs to deepen personal and professional connections.  Volunteer and serve our community with Gonzaga's Center for Community Action and Service Learning (CCASL).  Encourage your student to visit gonzaga.edu/mysenioryear  to get connected with information and resources to make the most of their Senior year at GU.