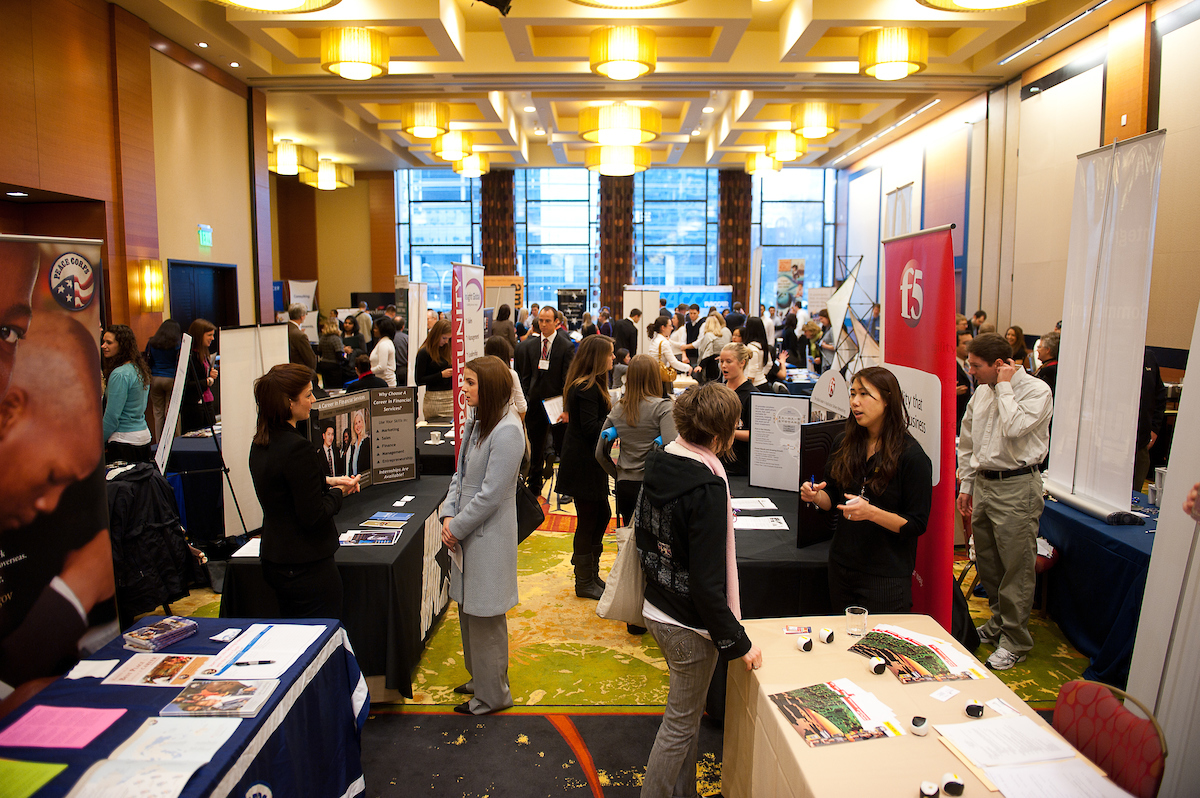 By: Career & Professional Development
Registration opens November 4 for the 2017 Portland and Seattle Treks. Held in January, just before the start of the spring semester, these two annual events bring students, alumni and employers together for a full day of discovery and networking. This year, students can register for either or both directly through EVENTS on Handshake: https://gonzaga.joinhandshake.com/login 
The Portland Trek is scheduled for Wednesday, January 5 at the Red Lion Hotel on the River-Jantzen Beach, with excursions to organizations such as Nike, Intel, OHSU, Columbia Sportswear, McKinstry and Sparkloft.
The Seattle Trek follows the week after, on Thursday, January 12 at the Renaissance Hotel on 5th and Madison.  Excursion choices this year include Boeing, Amazon, Microsoft, Alaska Airlines, Liberty Mutual, Expeditors and many more.
The Seattle Trek first began in 2002 with the idea that many of our students are from the Puget Sound area and/or want to pursue opportunities there following graduation. Because our location in Eastern Washington can pose a disadvantage, we leveraged the support of a strong alumni base in Seattle to bring our bright and talented students to the employers and the opportunities there.
In addition to Seattle and Portland, the greatest numbers of students and alumni hail from San Francisco and Silicon Valley. So, subsequent treks were established in these cities over spring break. With a specific focus on the financial industry, The New York Trek (October) was established in 2007. This October, the Spokane Trek celebrated its 4th year, while Denver was successfully added to the "Trekker" list in June, 2016.
So what is the purpose, and what exactly happens on the Trek? Treks are career development and networking programs that create opportunities for students to connect with alumni and employers in key metropolitan areas across the country. As part of treks, students interact with partner organizations during corporate excursions, career fairs and networking socials.
A typical Trek Day in Seattle and Portland begins at the hotel with The Women's Symposium. A panel of alums representing diverse fields articulate their own career decisions in navigating a successful and meaningful professional life. Next on the schedule — a career and internship fair hosting local organizations where students can connect with employers of that region. A networking lunch is provided and students travel on busses to their corporate excursion. Here, an inward look into the working culture of that organization brings thoughtful observations and a chance for questions. The day finishes back at the hotel for a dinner and evening of networking with Gonzaga alumni who engage with students and keep the ZAG connection alive.
Unlike the famous marketing slogan, "what happens in Vegas, stays in Vegas," we like to think "what happens on the Treks stays relevant in the professional development of Zags!"  Proving this, here is what returning trekkers have to say!
"….They say when you're searching for a job, you should be interviewing the company, just as much as they are interviewing you. What better way to "interview" a company, than to actually go to it for a few hours, and get a feel for the atmosphere and daily grind. The excursions that I've gone on over the last two years have, hands down, been the biggest factor in choosing the companies I have decided to try and pursue a career with."
"….The most important lesson I have learned from my experience with the Treks is that connections are everything. Connections, over resumes, get you jobs. And when I say "connections" I don't just mean the name on the business card that you picked up at the career fair. I'm talking about building lasting relationships. You don't just shake hands with someone and they offer you a job. That's not the way it works. You have to build genuine, mutually beneficial, caring relationships with people."
We encourage you and your Zag to explore and consider this wonderful opportunity for professional growth and networking. For more information, contact Career & Professional Development, careers@gonzaga.edu.