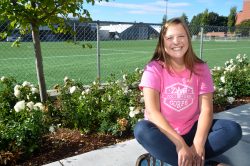 By Catherine Collins, Class of 2020
As a freshman, one piece of advice that you are constantly given is to "throw yourself all in." Other tidbits, like "get involved," "try everything," "put yourself out there," etc., all seem to revolve around this similar idea that discovering one's full potential at Gonzaga requires sampling from all of the opportunities for involvement that are at your disposal.
The first few weeks of college are full of club events, activity-packed newsletters, and a million different opportunities to throw yourself into the college experience. To call this time overwhelming is somewhat of an understatement, as it quickly becomes far too easy to exhaust oneself with involvements. This is precisely why it is important for first-year students to take a deep breath and reflect on who they would like to be at Gonzaga, and what meaningful involvements would allow them to become that person.
Zag Volunteer Corps-Saturdays of Service events are an amazing way for first-year students to engage in both the Gonzaga and Spokane communities in that meaningful way. During these half-days of service, Gonzaga students are provided the opportunity to serve alongside a handful of inspiring local non-profit organizations that provide necessary services to our community. While ZVC-Saturdays are certainly an opportunity to give back to one's community and stand in solidarity with our most vulnerable community members and neighbors, it's the exposure to the incredible stories of community partners, local advocates, and individuals in need that situates a student's education in lived realities and tethers their time at Gonzaga to the greater Spokane community. Suddenly Gonzaga isn't just your home because you live here, it's home because you've discovered and invested in your education, your empathy, your purpose, and your community as an agent for positive social change.
For long-time volunteer, current program leader, and senior, Hailey Hunt, that purpose and belonging was especially tangible during last year's Reforest Spokane Day, an annual three-hour partnership between ZVC-Saturdays, the Spokane Lands Council, and the wider Spokane community where—with the help of hundreds of students, families, and local community members—thousands of trees were planted along the Spokane River. Through this day of service, ZVC participants shared plenty of laughs and good conversation with families and community members of surrounding neighborhoods. "None of us had to be there," Hunt notes, "but we all had the same drive and desire to take care of the community. There is such power in people together that have the same passion or goal."
In the spirit of Gonzaga's Jesuit tradition, volunteers gather together to reflect at the end of each ZVC-Saturday event. Reflection activities are based upon three questions: "What?", "So what?" and, "Now what?" The goal of these reflection activities is to allow student volunteers to ask themselves, "What did I learn?", "Why does it matter?" and "How can I use my knowledge to continue being involved and create positive social change in my communities?" Often times first-year-students will find that the best answer to, "Now what?" is to follow that issue that spoke to their heart on a ZVC-Saturday and to continue getting involved in meaningful ways with the Center for Community Engagement (CCE). Hailey Hunt suggests that through the CCE she found not only a community in which she could engage with what set her heart and mind on fire, but a group of staff and volunteers whose open doors and evident interest in her well-being made Gonzaga feel truly like home. If your student is interested in discovering purpose and place through meaningful involvement, meeting new friends, and engaging in reflective conversations through CCE's Zag Volunteer Corps programming, encourage them to sign up for our next ZVC-Saturday event on Saturday, November 4 between 8am-1pm. Sign-up information will be posted in Morning Mail and on the CCE Facebook and Instagram pages. If you have any additional questions about ZVC-Saturdays, please email zagvolcorps@zagmail.gonzaga.edu for more information.