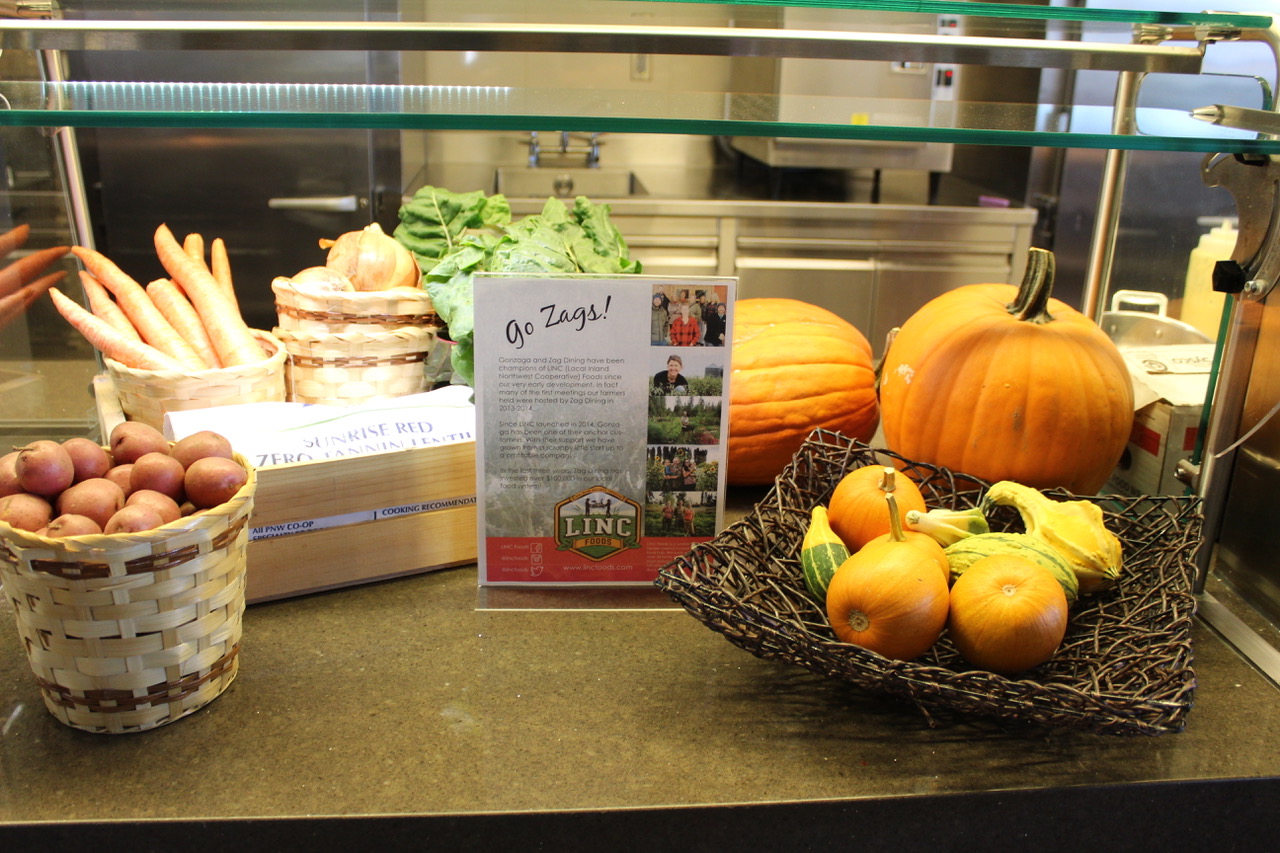 Food with a farm-to-table story is the last thing you'd expect to see daily at a venue that serves thousands of meals per day, but that's exactly what's happening at the COG and 1887 at Cataldo, our two resident dining halls. Zag Dining is proud to partner with LINC Foods to provide Zags with the most delicious, nutritious, sustainable, healthy produce around.
LINC Foods (Local Inland Northwest Cooperative) is a worker and farmer owned cooperative based in Washington State comprised of nearly 50 local farms. In order to join LINC, farmers can't use pesticides or chemical fertilizers and must follow standardized food safety protocols to ensure produce is safe and healthy! We value our relationship with LINC for many reasons, but some of the most important include sustainability and community support.
Daily menus of local produce are posted all around the COG, listing the local fruits, vegetables and meats at each station. Updated each day, the menus are one communication piece we use to tell our local story. In addition, our staff is proud to share the origins of the dishes being served with every Zag dining on campus.
One reason Zag Dining values our relationship with LINC is that we are able to tell the story behind the food. In addition to the daily menus listing what and where the produce served comes from, farmer bios are posted daily. We're able to answer the who, what, when and where of the food on your plate.
Products served can range anywhere from lentils grown in the Palouse, pork from Oregon, vegetables grown in urban downtown Spokane and more! On a typical day, local produce is used throughout campus, but can often be found at the salad bar, featured in Zagriculture's (the entirely plant-based station) main dish, as sides at World's Fare (an allergen-free Simple Servings station), and complimenting entrees at 1887 at Cataldo.
Supporting our community and environment is a guiding factor behind all we do at Zag Dining, with the overall goal of providing nutritious and delicious food for everyone on campus. By using local food from our LINC partners, we're able to reach all of our goals and be able to provide the best value at every dining experience!
Thanksgiving Hours and Celebrations with Zag Dining
With the holidays just around the corner, the Zag Dining team is here to serve delicious seasonal meals to students on campus!
If your Zag will be around campus for the holidays,1887 at Cataldo will be staying open throughout Thanksgiving break, from Thursday to Saturday. They will also be hosting a special lunch for Thanksgiving on Thursday, November 23rd.
The week before Thanksgiving, Thursday, November 16, we will feature our Native American Thanksgiving themed dinner in the COG, featuring dishes inspired by traditional Native American food. Using our local LINC produce, some of the dishes include: Comanche stew, braised bison spare ribs, salmon cakes with Cherokee succotash, turkey and mashed squash, and baked pumpkin casserole. In addition to serving these delicious meals, we will provide information about Thanksgiving traditions.