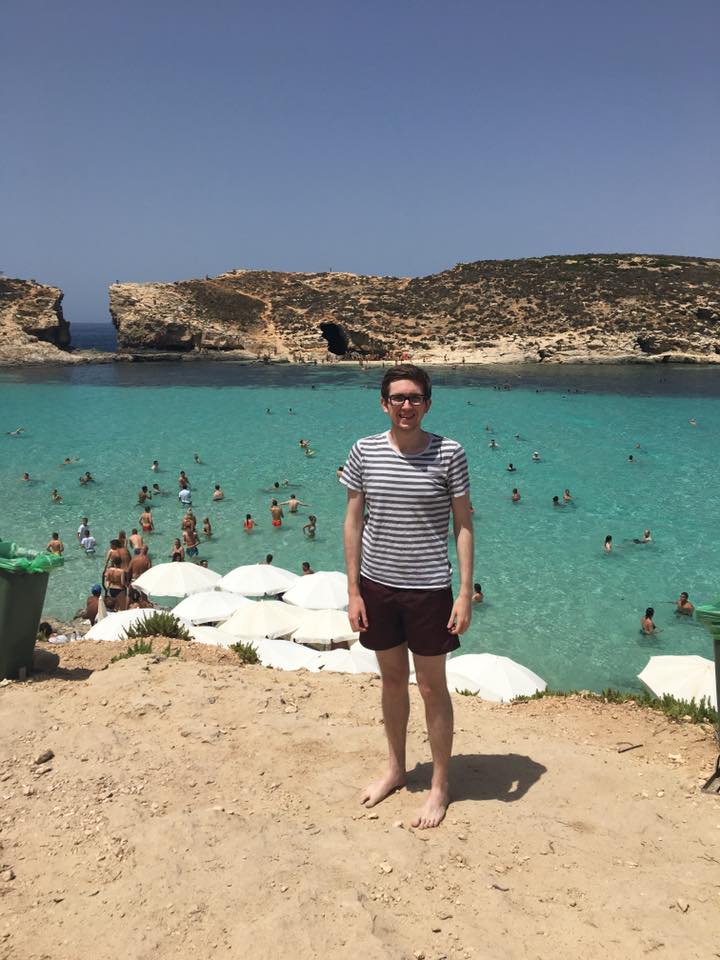 By: Joseph Harshbarger
Like many Zags, I spent a semester studying at Gonzaga-in-Florence (GIF). A semester of food, art, and travel: what more could one desire? I always desired to be an 'expat', living life abroad in some exotic location. I never could have imagined how much my semester spent in Florence prepared me to go on to successfully continue my studies abroad in Paris and then make the move to Malta.
On a professional level, my first professional experience happened in Florence. The staff at GIF helped me secure an internship at a reception center for migrants seeking international protection. In 2015, what has become known as the 'refugee crisis' was on the front page of most newspapers, and I had the opportunity to work first hand with a group of 80 men who had crossed the Mediterranean on those infamous rafts. This experience in Florence made me realize that work in the field of international human rights, especially surrounding migration and conflict, was what I wanted to do in the future.
On a personal level, I learned how to live abroad. It's not as easy as people think, and it is a skill that has to be learned. Plunging oneself into a new country is never easy. It's completely normal to feel confusion, loneliness, excitement, and stress all in the space of twenty-four hours. Learning to understand and cope with these feelings is a lifelong skill that has served me well. Learning to do things alone and making friends with people from different cultural backgrounds are just two of the many life skills I learned while studying in the birthplace of Dante. These skills helped me to successfully move from Spokane to a tiny island in the Mediterranean, Malta. Each new country has its own hurdles to jump over, and Malta is certainly no walk in the park (imagine going to 9 government offices to obtain a residency permit).
Above all else, learning Italian was one of the greatest skills I achieved while studying in Florence. Italians are literally everywhere. In every country I've lived in or visited, my ability to speak Italian has allowed me to more quickly make friends and have a network of people to whom I can ask questions. In Malta, I speak more Italian outside of work than English. In Paris, some of my first friends were Italian. The friends I made in Macedonia did not speak English, but they spoke perfect Italian. There is a plethora of opportunities to learn and practice Italian while studying in Florence, the 'birthplace' of the Italian language. One never knows when speaking Italian, whether it will either get them better service at a restaurant or a future job in a company. Never let anyone say that learning Italian isn't useful. Every language is useful in its own right, and there is no better place to learn the beautiful language of Italian than in Florence.
More importantly, I made a home in Florence. Being homesick is normal, and who knows where one's career may take them: be it the plains of the Serengeti or Malta. It is, at times, easier to have a weekend in Florence than going to one's true home in the US. Knowing that there exists a city on earth where I know people and good food is plentiful, makes any outpost bearable. Both during my times in Paris and my current posting in Malta, I have been back to Florence whenever I just needed to feel "at home".
Studying in Florence gave me the perfect experience to launch my international career. It provided me with a fabulous network of friends and contacts on whom I've been able to rely for advice, as well as providing me with a second home. Living abroad can be daunting, but my semester at GIF started me off on this great quest to live the chic life of an expat.