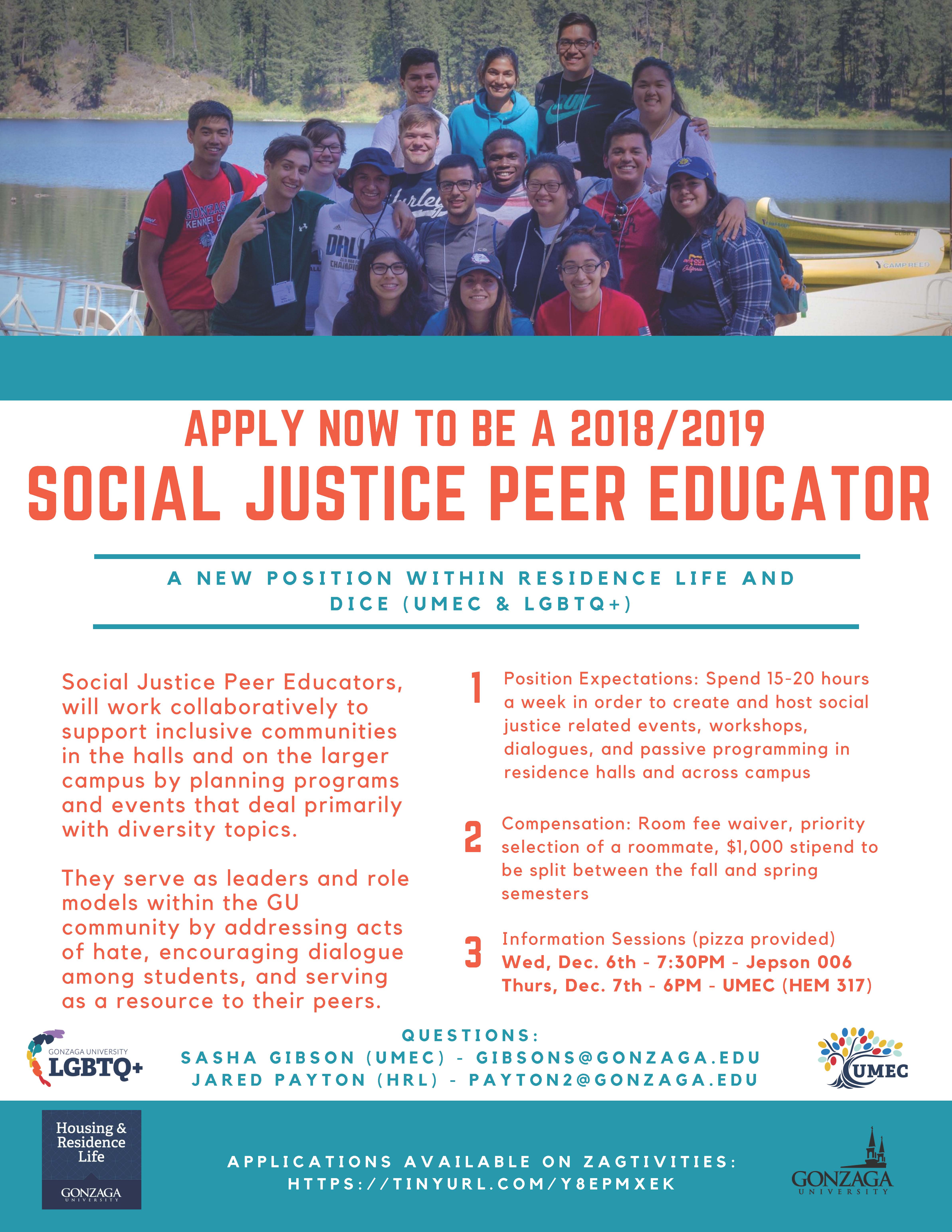 Partnerships and collaboration can create such beautiful results. Such is the case with the newest position coming out of Housing and Residence Life and the area of DICE (Diversity, Inclusion, Community, Equity) – Social Justice Peer Educators. Social Justice Peer Educators will work collaboratively to support inclusive communities in the halls and on the larger campus by planning programs and events that deal primarily with diversity topics. They serve as leaders and role models within the GU community by addressing acts of hate, encouraging dialogue among students, and serving as a resource to their peers.
This position was formed out of mutual need and interest centering on issues of inclusion and justice. Housing and Residence Life was looking to offer more support in the halls for students and undergraduate hall staff around social justice topics. At the same time, DICE identified the need to offer more opportunities for students to work with and educate their peers on these same topics. With careful planning and consideration, the Social Justice Peer Educator position was born! As we began to conceptualize this position, we noted the importance of not asking students to provide this level of work without any compensation. That is why Student Development is excited to offer these positions with both a room-fee waiver and a $1,000 stipend.
Social Justice Peer Educators will have the opportunity to make huge and lasting change both in the halls and on campus at large. Through programming, workshops, facilitated dialogues, dinners, and other intentional interactions our SJPEs will join forces with campus partners in their efforts. This will offer vital education and experience not just on issues related to social justice but also event planning, budget management, and conflict resolution – key skills needed for success at university and beyond.
Interested applicants should consider attending one of our information sessions (where pizza will be provided): Wed, Dec. 6 – 7:30PM – Jepson 006 OR Thurs, Dec. 7 – 6PM – UMEC (HEM 317). Applications are available through HRL on Zagtivities or this link: HTTPS://TINYURL.COM/Y8EPMXEK. We hope that you consider encouraging your student to apply!