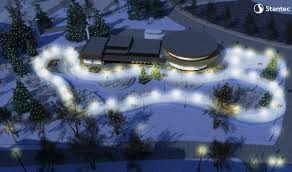 Spotlight on Spokane-Riverfront Park's Ice Ribbon Opens on December 8
Spokane's Riverfront Park is undergoing major renovations. One of the exciting additions to the park will open on December 8. The Ice Ribbon in downtown Spokane will be the first of its kind on the west coast. Bistro lights will glow in the evening hours and skaters can stop for hot cocoa at one of three fire pits as they glide along the 700' long path. Winter activities include free ice skating lessons, cheap skate nights, live music, themed dress up events and even yoga on ice!
In warmer months, the ribbon transforms into a pathway that can be used for roller skating, art walks and food truck rallies.
Encourage your student to try the new ice ribbon with friends for a finals study break or when they get back to campus after the holiday break. Go here for more information on all of the fun happening in Riverfront Park this winter.