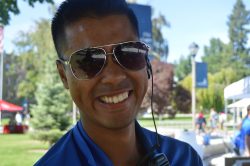 By: Michael Pham, Class of 2017, Public Relations
I arrived at Gonzaga in the fall of 2015 as a sophomore transfer student. At first, I felt behind the curve, missing out on the valuable first year experience that would have helped me to make friends, learn Zag traditions, and find my niche within the community. I wanted to know if Gonzaga was the right choice. I was invited to attend New Student Orientation, but didn't believe it would be beneficial. I believed that I was going to move through college as quickly as I could and get out into the world. College was something I'd experienced before; my belief was that I could do everything on my own.
My family encouraged me to attend, just so I could start off by making connections and getting to know new folks. Thankfully, I listened, because Orientation made a huge positive impact on me. I met so many people from a variety of experiences and backgrounds, and we came together with such a vigor and excitement for the years to come. The traditions, the fun, and the valuable tips presented by leaders and staff helped me to feel as if I had been here for years.
Above all things, the biggest change in my life was meeting with my advisor and other professors within the Integrated Media Department. As a Public Relations major, I wanted to know what I could do to build upon my prior college experience. Having a positive experience at my Orientation made me want to make the most of what Gonzaga has to offer.
Using the resources available to me introduced me to a variety of clubs, networking opportunities, and jobs that I never would have dreamed of undertaking. Thankfully, I didn't speed through college, and opened myself up to opportunities for personal and professional growth. Now a senior graduating in December, my heart is full of love for Gonzaga, and all the staff, faculty and students that have changed my experience. I am eternally thankful and proud to be a Zag.
Your Zag's story in creating a sense of belonging is unique. First Year Experience Programs (FYEP) is here to listen to and support your student by connecting them to resources and challenge them to take the lead in creating their Zag story. Every Zag has the ability to be successful at Gonzaga University because they were selected through the admissions process to belong to our community. Whether your student is looking for assistance in academic tutoring, finding a softball team or ways to serve the community, FYEP will be able to get students on the right path, as long as they are ready to walk the path with us by their side. First Year Experience Programs is a great resource for all new Zags because we believe Orientation is a process, not an event and are here all year to support your Zag. Students can stop by Crosby 101, follow us on social media @ZagFirstYear or contact us at firstyearexperience@gonzaga.edu, (509) 313-4346.
The department services consist of the following:
Pre-Orientation Programs
New Student Orientation
How to Zag Extended Orientation