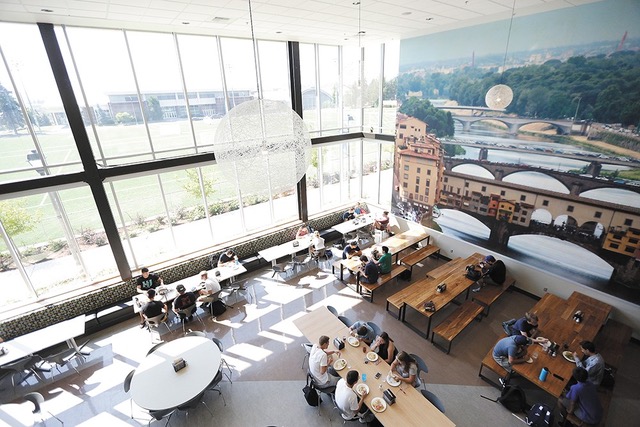 Before you know it, your student will be home from the holidays! Along with their excitement and laundry, will likely come a request for a new meal plan. Why? As students make their way through the semester, they may find that a different plan will better suit their schedule and eating habits. Whether that means the Platinum plan with unlimited swipes or a plan with more Bulldog Bucks and fewer swipes, students typically inquire about meal plan adjustments during this time of the year.
If your student is a first or second year, they are likely required to have a Resident Meal Plan. These come as the Platinum, Gold 16, Silver 12, Blue 225 or White 175 and the right choice depends on your student's habits and schedule. The Platinum plan provides flexibility, while other plans can be a fine choice if your student is good at budgeting finite resources. Both types come with Bulldog Bucks. Bulldog Bucks are accepted at all Zag Dining locations across campus and even beyond on- campus dining options. You can read more about Bulldog Bucks here.
To learn more on Resident Meal Plans, visit our site found here. There, you will find details on each of the available meal plans. Keep in mind, your student's fall meal plan choice will automatically renew for spring unless a change is made in Zagweb before 5:00 PM on Friday, the last day of the first week of classes in the spring semester.
Resident Meal Plan options:
Platinum
Unlimited Swipes | $500 Bulldog Bucks
Price: $2,850
Gold 16
16/week Swipes | $550 Bulldog Bucks
Price: $2,825
Silver 12
12/week Swipes | $700 Bulldog Bucks
Price: $2,740
Blue 225
225/semester Swipes | $600 Bulldog Bucks
Price: $2,770
White 175
175/semester Swipes | $800 Bulldog Bucks
Price: $2,740
Is your Zag an upperclassman, grad, or law student? Do they live off campus? Not to worry! Community Meal Plans are a great option for them and include swipe access to the on-campus dining halls! The Loyalty, Nora, Augusta, and Sinto plans are designed to provide your student with a well-balanced meal when life gets too busy for cooking. Community meal plans include swipes that NEVER expire and participate in the Go Green Fund: 1.5% of the purchase price goes toward a campus sustainability project.
Purchase a Community Meal Plan today!
Community Meal Plan options:
Community Loyalty
110 Swipes
Price: $855
Community Nora
80 Swipes
Price: $645
Community Augusta
50 Swipes
Price: $425
Community Sinto
30 Swipes
Price: $275
If you have a question about the Meal Plans offered, please call the Zag Dining office at (509) 313-6906. You can find more information about us online here.