Commencement Mass
Date: Saturday, May 12, 2018
Time: 3:30 PM
Location: The McCarthey Athletic Center
This is a wonderful opportunity for the entire GU community to show our loving support and celebrate the Eucharist with all our graduating students and their families. While this is a Catholic Mass, we cordially welcome guests of all faith traditions.
Commencement Ceremony
Date: Sunday, May 13, 2018
Time: Doors open for general seating at 8:30am. Students check-in by 8:45am. Ceremony is from 9:30am-12:30pm.
Location: Spokane Arena, 720 W. Mallon, Spokane, WA
How do I get tickets?
Tickets are NOT required for the Commencement Mass or Commencement ceremony. There is no limit to the number of guests per student for either of these events. Note that special functions hosted by programs or departments are usually by invite only and may have attendance limits.
Ceremony Guest Seating
Doors open for guests at the Spokane Arena at 8:30am for open seating (no tickets or assigned seats). Crowd management staff will help guests find seating and assist groups who are mobility-challenged to find seating together or near each other. Before you arrive at the Spokane Arena, check out the Commencement website to view the student seating map and get an idea of where your student will be on the floor. We will have that posted by May 1. Choose the opposite side, so that you can see the face of your student when they cross the stage. Guests are not allowed down on the floor.
How do I get video and pictures from the ceremony?
Several still photos of your student will be captured by our photographer team, Grad Images, at the Commencement ceremony. Proofs are available online beginning June 1. We publish the ceremony recording on the university YouTube channel within a couple of weeks of the ceremony, but you can order your own DVD from our partner, Graduation Nation, also beginning June 1.
Will there be food at the reception following the Commencement ceremony?
The reception back on campus on May 13 is a great last stop for pictures before students return their rented attire to the ZagShop. Join us until 2:30pm for light beverages and snacks. Note that there WILL be food available for purchase at the Spokane Arena.
What does my student need to do in order to graduate?
We invite all students graduating (finishing studies) in the calendar year to participate in our annual commencement events in May. This means that if your student is finishing classes in the summer, or even in December of 2018, they are invited to join us for the celebration of achievement. First, your student must apply to graduate in order to initiate the diploma-granting process, and to be eligible for ceremony participation. Next, ordering the required rental attire from Herff Jones counts as your student's formal RSVP for the ceremony. Finally, students must pick up the ordered rental attire from the ZagShop prior to the ceremony.
Cap and Gown Rental: The deadline for ordering the required rental ceremony attire from Herff Jones is March 15, 2018. A link is available from Herff Jones here. Attire pickup begins Monday, May 7 in the ZagShop, and returns are due back to the ZagShop by Sunday, May 13, at 5pm.
Graduating students should have received a verification email from the Degree Office to confirm the accuracy of the following: major(s), minor(s), concentration(s), target degree completion date and diploma name. If students can verify the accuracy of this information by March 15, it can be accurately noted and printed in the commencement booklet.
Students can also visit Zagweb before May, to verify or update the mailing address where their diploma should be sent.
Senior Slideshow
Shhhhh! It's a surprise! Parent and Family Relations is accepting and compiling photos of seniors for a Senior Slideshow. Photos will be played before the Commencement ceremony at the Spokane Arena on Sunday, May 13.
If you wish to participate, please email 3, high resolution JPEG photos of your student to families@gonzaga.edu. Include the first and last name of your graduate. Photos can range from the childhood years through the college years. The deadline for submissions is March 23.
Hotel Reservations
Making hotel reservations early in advance is a MUST for Gonzaga Commencement Weekend. We often share the weekend with other local institutions and their commencement ceremonies, as well as other events in our region. We partner with the Davenport Hotel Collection as our official hotel sponsor in Parent and Family Relations. They have 3 beautiful properties, each offering a unique experience for its guests. You can find more about these properties here. You can read more about a variety of other local hotel options here.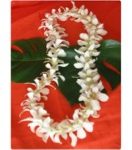 Flower and Lei Sales-
Are you thinking about getting your graduate flowers? Support Gonzaga's holistic health and buy them through us! Our students are committed to developing workshops, hosting events, and creating programs that provide students with the relevant education and resources needed to live a balanced and healthy lifestyle. The majority of their work is funded by the Rose and Lei Sale, so help us pay it forward to future GU students.
Roses will be on sale for $5 (single roses), $15 (bouquets of three), and $30 (bouquets of six) during all graduation ceremonies. Rose sales will be cash only.
Leis are available by pre-order only starting in mid-February for $35. Follow this link to order leis. The deadline for ordering is Monday, April 16th. Prior to graduation weekend, you will be emailed with instructions on where to pick up your lei that weekend. Leis will be available prior to the start of each respective ceremony (graduate, law, and undergraduate) and Mass.
There is a slight chance that weather conditions could interfere with delivery of leis. In that circumstance, money will be refunded to the purchaser within one week of graduation weekend.
For questions or concerns prior to ordering, please call the Center for Cura Personalis at 509-313-2227 or email us at ccp@gonzaga.edu.
Thank you for your support!
Senior Parent Ads:
The Gonzaga University Student Media Office would like to offer you an opportunity to surprise your graduate with a special personal message in the 2017-2018 Spires Yearbook. After four or more years of hard work, a Parent Ad is a great way to recognize and honor your graduating senior and express your pride for all their accomplishments! The FREE 2018 Spires Yearbook will be published in September 2018 and can be delivered right to your home!
The deadline for submissions has been extended to March 2nd, 2018. Payment must be received to reserve a space. Enclose a check or pay by credit card through our secure site found here. You can also mail the completed form and payment to: Spires Parent Ads, Gonzaga University, 502 E Boone Ave, Ad Box 94, Spokane, WA 99258. If you have any question, email spires@gonzaga.edu!
IMPORTANT INFO:
Deadline: March 2nd
Half Page: $200 – Up to 4 photos
Quarter Page: $105 – Up to 2 photos
Welcome Seniors Event
Date: April 19, 2018
Seniors are encouraged to stop in at a day long open house at University Advancement at the BARC. Students can take a tour, join a local regional chapter, take a senior exit survey and get career advice, meet the new alumni chaplain and hear about the Senior Gift. There will also be a last-minute sign up for cap and gown and seniors who visit will receive a trinket giveaway.
Senior Reflection Series
Current Seniors who have registered to graduate will begin receiving e-mails featuring this year's Senior Reflection Series after Spring Break. In these inspirational letters, staff, faculty and alumni reflect on the question, "What did you value most about your college experience, and what has it been like to incorporate that into life after graduation?" Topics cover Purpose, Failure, Community, and Space for God. The authors represent a wide range of life experiences, including campus ministers, army veterans, parents, and lifelong learners. Each Senior Reflection e-mail features a generous message, reflection questions, and guided prayer.