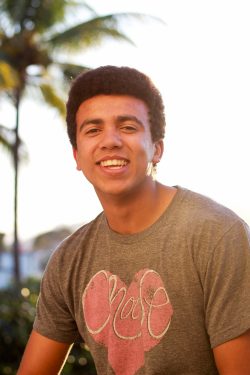 Michael Larson
Sociology
Class of 2021
Everett, Washington
First-Year Student Reflection
I remember the moment vividly when my mom and older brother waved to me saying goodbye walking down the hall on the second floor of Coughlin Hall during Orientation Weekend. I was alone and officially an independent college student at Gonzaga University. With second semester ending, I realize how jam-packed this school year has been for me especially in helping me grow socially, intellectually, and spiritually.
The first couple of weeks here were both exciting and challenging for me trying to learn how to balance meeting and making new friends while keeping my grades on track. Since I have been here, I have noticed there is something different about GU students that sets them apart from other campuses and universities. The community here is unlike anything I've ever seen before just within the way people are passionate, friendly, and always willing to hold the door open for you. I know for a fact that I have met some life-long friends here and GU is a unique campus because it feels small, but I find myself constantly meeting new people.
Before coming to Gonzaga, I knew I wanted to deepen my faith and relationship with God while in college. As soon as I got to campus I signed up for a CLC, (Christian Learning Community), then started going to YoungLife, and started going to a church called Summit. Since I have been at Gonzaga my faith has grown immensely and I have found my community of people who I can talk to and grow my faith which has been amazing.
One of the challenges for me personally since I have been at Gonzaga is balancing my academics with other extracurricular activities. I have two different jobs working as a GUide Core videographer intern, as well as an AV assistant in the Law Library. On top of work, I'm involved with a couple different clubs on campus and so I have had to learn how to manage my time better while being at college which has been both hard and rewarding. I have to say, I did do well with my grades first semester and I'm working on trying to finish strong this second semester as things are beginning to become extremely busy for me.
Overall, this year has been a growing experience for me and I have learned so much since I have been here. I am appreciative of the opportunities Gonzaga has given me and as I look forward to next year, I am beyond excited for what is next and the ways that I am going to continue to grow throughout my years here at Gonzaga University.