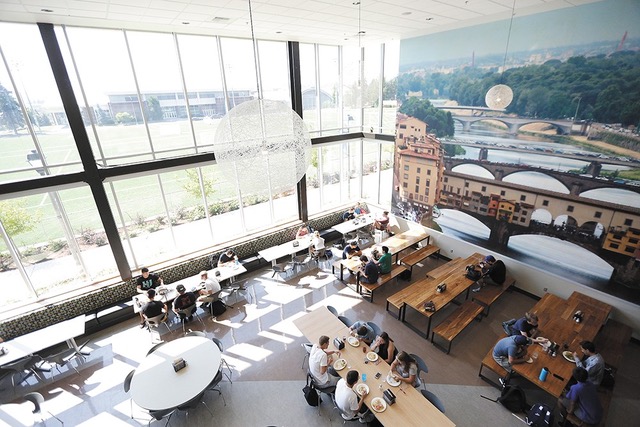 From one chapter to the next; end of year gratitudes and goodbyes.
As this academic year comes to a close, campus is brimming with emotions; stress, joy, excitement, and some relief. Tomorrow is the last day of the Spring Semester. Tomorrow is the last day of the college experience for many of our students, while for others it's merely the end of one chapter and they will return next year to continue writing their part of our community's story.
Our graduating students are all gearing up to write the conclusion to their Gonzaga chapters. They are packing up and shipping out in droves. Many of them will be entering the work force while others are going directly into another chapter of furthering their education.
In the Center for Student Academic Success, we have two student employees in the Disability Access Office that will be graduating and moving on. Both of these students have brought something new to our office environment that we will miss dearly. We are so proud of them both and are excited to see what life will bring them next.
Bianca will be graduating on Sunday with a degree in engineering management and a minor in business. Bianca has worked for the Disability Access Office for over two years. During her time with the office, she has learned about and implemented assistive technology accommodations, produced braille documents, scribed exams, and learned about relational communication. She has brought her engineering mind to many of our office planning sessions and always has a good dad joke to share to make us chuckle a little. She wears her Gonzaga gear proudly, but can't wait to return home. Bianca has loved her time here, but she misses her Southern California weather and her large, loving, and LOUD family as well as her dog, Captain Wiggles.
Ashley will be graduating on Sunday with a degree in biology and a minor in Spanish. Ashley is also part of the Gonzaga Symphony and will be playing in her last performance with the group this week. Ashley has been with the office for a year and a half and in this time she has revamped a few of our assistive technology system checklists, scribed countless exams for accommodated students, coordinated the student workers daily task list, and has shared her fierce opinions regarding the state of the world today. She will be embarking on a different journey than Bianca after graduation. Ashley will be leaving Spokane just days after graduating to move across the country and start her master's in education with Loyola University Chicago on May 29th. She will attend classes through the summer and will be in a classroom teaching at a Catholic elementary school by September. She is excited to get started on this new adventure and has planned out every single day of travel to make sure she gets in family visits along her route.
Our student employees are an integral part of what we do every day. Without their hard work, our office would be a lot quieter, but also not as full of life. The student employees bring an energy to our daily work that we wouldn't have otherwise. We value this energy in both the office and within our daily tasks.
The student employees in the Disability Access Office will leave campus with more skills than just what they learned within their studies. Both of our graduating student employees know who to convert a document to braille for the visually impaired, caption an online video for the hearing impaired, convert documents to a screen reader available format, update laptops, and so much more. In hours of trekking around campus running errands for several of the CSAS offices, these students have not only gained a respect for the Gonzaga community, but they have also gained respect for the art of communication as they have conversed with people from every walk of life in order to complete the errand. They have gained respect for good shoes and umbrellas as the treks around campus don't always coincide with nice weather. They have gained respect for how hard our staff and faculty work to provide a safe and welcoming learning environment for our community. In all of this, they have also earned respect. Each day in the life of a college student is stressful and demanding, but these students show up every day ready for a new adventure. We wish them both the best of luck and hope they keep in touch. They will forever be in our hearts and our office stories. They will forever be part of the Zag Nation.