You are currently browsing the monthly archive for February 2017.
The You Can in Spokane event is from 6:30-7:30 p.m. Tuesday, Feb. 28 in Wolff Auditorium. It will be followed by a networking reception with food and mocktails. The purpose of this event is to show the tremendous opportunity that exists in Spokane and the local community in business development and growth.  It is a collaboration between the business school, Alumni Office, and Career and Professional Development. Panelists include the founder of "Spokane Doesn't Suck" and three recent Gonzaga graduates who have chosen to make a career in Spokane.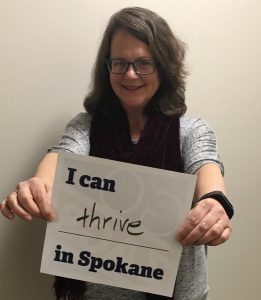 Here's some information from Washington Trust Bank regarding their relationship manager program. This will be the topic of their information session from noon – 1 p.m. Monday, Feb. 27. Lunch will be served.
MANAGEMENT TRAINEE
There is no reason to wait – accelerate your career today with the Washington Trust Bank Relationship Management Development program. As a Management Trainee, your experience will be hands-on and meaningful from day one. You will rotate through all divisions of the Bank, mentoring with executives and senior managers, shadowing successful Commercial and Wealth Management professionals, and actively participating in community activities. In addition, there will be extensive in-house classroom training on banking, commercial lending, wealth management, business development and other important business skills necessary for your success.
At the end of the approximately 12-month training program, you'll continue the on-the-job learning as a Credit Analyst in the Commercial Lending Division, or as a Trust Associate in our Wealth Management group.  From there, you will be promoted to an Associate Relationship Manager where you will work directly with a seasoned professional and our valued clients, participating in the management of a book of business. Opportunities are available in Seattle, Spokane, Central Washington and Portland, Oregon. Training will be conducted across all regions, giving you exposure to a variety of experienced Washington Trust Bank mentors, team leaders and professionals. All trainee roles are full-time, salaried positions.
COMPETENCY REQUIREMENTS
Client-Focused: Cares about those around them. Able to look at the big picture, think of others and put them first.
Driven: Self-motivated. Takes direction well and is able to move forward with little instruction. Embraces projects as their own.
Resilient: Remains strong and determined when faced with a challenge. Instead of backing down in the face of adversity, steps up and continues to push forward.
Passionate: Able to throw themselves into their work and lives. Enjoys what they do and finds a way to make their work meaningful to them.
Creative: Able to look at a project in a unique way. Make their work their own and embrace an approach specific to their own style.
Dynamic: Has a strong presence that draws people in. People are drawn to them, they share stories openly and intentional in their wording. Well-developed interpersonal skills. Able to communicate with different generations and demographics.
Balanced: Successfully juggles school, work, and extracurricular activities. Handles stress in a positive way.